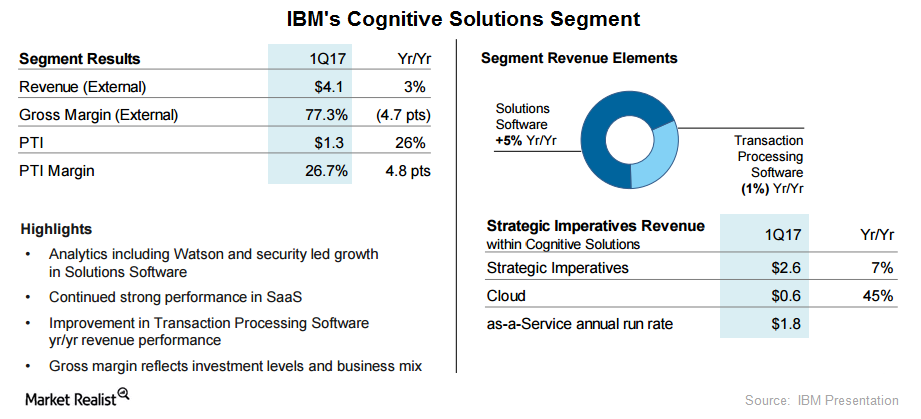 How Has IBM's Cognitive Solutions Segment's Performance Been?
Growth in 1Q17
Earlier, we discussed IBM's (IBM) addition of a fourth data center in Australia (EWA).
Despite its aggressive measures to tap growth, top line growth continues to be elusive for IBM. The company's 1Q17 results marked its 20th straight quarter without revenue growth. However, its Strategic Imperatives segment continued to post growth. In 1Q17, the segment's revenue rose 13% to $7.8 billion.
IBM's Cognitive Solutions segment consists of solutions software and transaction processing software. IBM's Watson Health, IoT (Internet of Things), and certain areas of its cloud computing business fall under this segment. The segment's revenue rose 3% to $4.1 billion in 1Q17. Within the segment, cloud revenue rose 55%, as the chart above shows.
Article continues below advertisement
Article continues below advertisement
In the past, IBM has been aggressive in its acquisitions of companies in order to seek growth and push its strategic imperatives. However, to date in 2017, the company has been dormant in this regard. So far this year, the company has announced two acquisitions, Ravy Technologies and Agile 3 Solutions, in the security space. It appears that IBM has adopted a selective approach to acquisitions, as they have a significant bearing on its margins and profits.
In the absence of revenue growth, IBM has to cautiously keep a check on its costs and devise ways to improve its margins.
Key technologies driving the next computing cycle
SMAC (social, mobile, analytics, and cloud) have engulfed the current IT (information technology) environment. Post-SMAC, VR (virtual reality), AR (augmented reality), AI (artificial intelligence), the IoT (Internet of Things), ML (machine learning), and autonomous vehicles are expected to drive the $13 trillion in spending that's expected in the next computing cycle.
IBM's focus on these rapidly developing technologies bodes well for its prospects. Morgan Stanley (MS) analyst Katy Huberty shares this opinion.