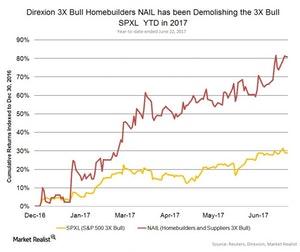 How the Summer Heat Affects Homebuilder Stocks
Direxion
Construction picks up in the summer
But this segment has been working great along with the economy this year. Though new home sales are only about half way up from their trough in 2011, at an annual pace of close to 650,000 per year, they continue to climb. In some markets, we've seen reports that there is still a shortage of homes for sale. So far this year, the Dow Jones U.S. Select Home Construction Index is up 22%. See how NAIL (3X Bull Homebuilders) has been demolishing (inverse pun intended) the SPXL this year in the chart below.
Article continues below advertisement
Article continues below advertisement
So, the direction is bullish. How about the past? Returns for homebuilders tend to hold up during the summer with July's +1.0%, August's +0.15%, and September's fall off of -2.7% as things cool into autumn. Keep in mind, though, that the FOMC just raised rates for the fourth time. We don't know how much this move will ultimately curtail home buying. Whether you're seeing the continuation of a six-year trend and a decent summer backdrop or the FOMC trying to slow things down a bit, Direxion has you covered with NAIL (3X Bull) or CLAW (3X Bear) Homebuilders and Suppliers.
Market Realist
The construction industry is having a good year
Towards the end of 2016, experts noticed an expansion in the US construction sector that's forecast to continue in 2017. Recovery in the housing market and strong jobs growth have pushed the performance of the construction sector in 2017 so far. The S&P Homebuilders Select Industry Index, as tracked by the SPDR S&P Homebuilders ETF (XHB), has gained 13% year-to-date as of June 22.
Factors that drive homebuilders' performance include low interest rates, demand for new homes, and declining unemployment rates. As per data from the US Bureau of Labor Statistics, the unemployment rate fell to 4.3% in May 2017. Plus, new home sales rose 2.9% to a seasonally adjusted 610,000 units in May. The median house price has risen by 11% in May to $345,800, compared to $310,200 in April, as per data from the US Census Bureau.
The Direxion Homebuilders and Suppliers 3X Bull (NAIL) has evidently outperformed the S&P 500 3X Bull (SPXL)(SPX-Index) year-to-date, as the chart above shows. However empirical data from Direxion show that the average summer performance for homebuilders stands at -0.15%.
The Federal Reserve raised interest rates by a quarter of a percentage point for the second time this year. How the increase in interest rates will affect home sales remains to be seen, since lower interest rates are one of the factors driving homebuilders' performance. Direxion keeps you prepared with the Homebuilders and Suppliers 3X Bull ETF (NAIL) and Homebuilders and Suppliers 3X Bear ETF (CLAW).