Factors Impacting Brazil's Economic Growth in 1Q17
Brazil's (EWZ) economy improved in 1Q17, mostly due to the manufacturing sector, exports, and business confidence. However, recent political scandals have undermined its growth and credit rating.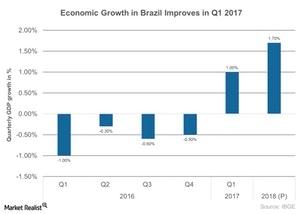 Improvement in macroeconomic factors
Brazil's (EWZ) economy advanced in 1Q17, mostly due to improvement in the manufacturing sector, exports, and business confidence during the quarter. However, Brazil's interim president, Michel Temer, was implicated in a number of corruption charges in 2Q17, adding to an unsettled political situation in the country.
The recent additions to Temer's corruption charges include bribes allegedly taken from JBS, a large meatpacking company. Temer's alleged involvement is expected to delay his administration's proposed pension and labor reforms in 2017. Amid the disappointing political developments, economic growth in 1Q17 showed remarkable improvement. The chart below illustrates Brazil's GDP growth since 1Q16.
Article continues below advertisement
Article continues below advertisement
Economic growth in 1Q17
The Brazilian (FBZ) economy advanced 1% on a quarter-over-quarter basis in 1Q17 compared to a 0.5% contraction in 4Q16. Brazil reported the first expansion in the last two years with its 1Q17 growth surpassing market expectations of a 0.5% decline.
The growth in 1Q17 was mainly driven by the rise in exports. The country's public spending and investments continue their decline in 2017 due to the austerity measures adopted by Temer's administration.
Uncertain political climate
Brazil's (BRZU) (EWZS) political climate has been in a state of constant uncertainty due to the increasing level of corruption among its political parties. Any delay in the proposed economic reforms could weaken the economy, which needs support from the administration's political capital to pass its reforms.
Recently, Moody's (MCO) reduced Brazil's credit outlook to "negative" from "stable," and it kept the country's rating two levels below investment grade at Ba2. Brazil's reduced rating followed the corruption scandal, which has led to lower expectations of an economic recovery in Brazil. The iShares MSCI Brazil Capped ETF (EWZ) has fallen ~11% from May 2017 to June 22, 2017.
We'll look at the job situation in Brazil in our next article.