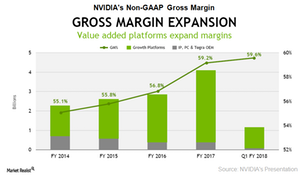 Factors That Could Drive NVIDIA's Gross Margin in Fiscal 2018
<p>NVIDIA's non-GAAP gross margin improved from 57.5% in fiscal 1Q17 to 59.6% in fiscal 1Q18.</p>
NVIDIA's profitability at a glance
NVIDIA (NVDA) reported strong double-digit revenue growth throughout fiscal 2017 and in fiscal 1Q18.[1. fiscal 1Q18 ended April 29, 2017] This trend is due to strong growth in its Gaming and Automotive segments, as well as exponential growth in the Data Center segment. This revenue growth has converted into strong profits as the company outsources manufacturing to TSMC (TSM).
While outsourcing helps NVIDIA reduce its fixed overhead costs, the company must share some margin with TSMC. So, NVIDIA's gross margin is lower than Intel's (INTC), which manufactures chips in its own fabrication facility.
Article continues below advertisement
Article continues below advertisement
Gross margin
NVIDIA's non-GAAP[2. generally accepted accounting principle] gross margin improved from 57.5% in fiscal 1Q17 to 59.6% in fiscal 1Q18. The gross margin was driven by strong demand for its Pascal GPUs (graphics processing units). However, its gross margin was lower than Intel's 63% margin during the same quarter.
On a sequential basis, NVIDIA's gross margin fell 60 basis points as the licensing revenues from Intel fell from $66 million to $43 million because the licensing deal expired in March 2017.
For fiscal 2Q18, NVIDIA expects its gross margin to fall 100 basis points on a sequential basis to 58.6% as its licensing revenues come to an end. The company can improve its gross margin even without licensing revenues.
Gross margin is a function of product mix
NVIDIA's GPU business has a higher gross margin, and its Tegra business has a lower gross margin. While the Gaming segment has an average gross margin of ~50%, the Data Center segment has a higher gross margin between 65%–70%.
In the past three years, NVIDIA's gross margins improved 450 basis points. The Data Center segment's revenue contribution increased from 4.8% in fiscal 2014 to 12% in fiscal 2017 as it launched more expensive Pascal GPUs. Going forward, the company's gross margin would improve as the Data Center segment and advanced gaming GPUs account for a larger portion of sales.
Next, we'll look at NVIDIA's operating expenses.