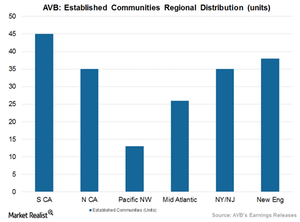 AvalonBay, Residential REITs Target Headwinds through Diversification
Focus on coastal markets
AvalonBay Communities (AVB) owns and leases multifamily communities primarily in New England, the New York metropolitan area, the Mid-Atlantic, the Pacific Northwest, Northern California, and Southern California.
AvalonBay focuses on major metropolitan areas in these regions. Its strategy is intended to position itself in locations that are easily accessible to densely populated urban and suburban areas.
AvalonBay's strategy to concentrate on its coastal markets bodes well for the company. Consumers tend to rent apartments in these areas, which offer local access to offices, stores, schools, and highways.
These areas are naturally less competitive as they provide barriers to entry for competitors due to land availability constraints. These strategic initiatives have helped AvalonBay maintain its share in the competitive REIT industry.
Article continues below advertisement
Other major players in the apartment REIT industry include Equity Residential (EQR), Essex Property Trust (ESS), and UDR (UDR). These REITs are also concentrating their portfolios in coastal markets. As a result, the iShares Trust – iShares Residential Real Estate Capped ETF (REZ) has witnessed a recent spike in its unit prices in this market. AVB constitutes 9% of the portfolio holdings of REZ.
AvalonBay Communities considers property development and redevelopment as a way to expand into new markets and bolster its presence in existing ones.
Development communities
During 1Q17, AvalonBay Communities (AVB) had completed the development of projects worth $650 million at an initially projected yield of 5.6%. About 70% of the yield is attributable to the completion of Avalon Willoughby and the AVA DoBro combination community in Brooklyn.
On March 31, 2017, there were 24 communities under development. When these projects are completed, these communities would comprise 7,581 apartment homes. Further, AvalonBay has land rights where it is scheduled to develop an additional 28 communities comprising 9,304 apartment homes.
During 1Q17, AvalonBay made an investment of $259.6 million in the development and redevelopment of various communities.
In the next article, we'll discuss AvalonBay Communities' shareholder returns.