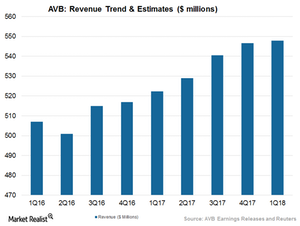 AvalonBay Maintains Revenue Growth amid Industrial Headwinds
Robust top line in the past few quarters
Residential real estate investment trust (or REIT) AvalonBay Communities (AVB) has been reporting growing revenues for the past few quarters. The company posted revenue growth of 15.3% in 1Q16, 10.2% in 2Q16, 8.8% in 3Q16, and 7.5% in 4Q16.
The chart below shows how AvalonBay Communities performed in 2016 and how it is expected to perform in terms of top-line growth in the upcoming quarters of 2017.
Article continues below advertisement
Article continues below advertisement
2017 trends
This growth trend continued in the beginning of 2017 as well. AvalonBay's 1Q17 revenues came in at ~$522.3 million and surpassed estimates by 0.3%. It also beat its 1Q16 mark by 3%. Higher year-over-year revenue growth was driven by revenue gains in stabilized operating communities as well as in development communities.
Its rental revenues rose 3.2% for established communities, mainly driven by a 3.1% gain in its average rental rates and a 0.1% gain in economic occupancy.
Development projects
AvalonBay completed projects worth $650 million during 1Q17, with a projected yield of 5.6%. Almost 70% of the yield can be attributed to development projects carried out in the communities of Avalon Willoughby and AVA DoBro, which is located in Brooklyn.
While AVB's operating expenses gained 1.5% for established communities, its net operating income (or NOI) gained 3.9% during the quarter.
Net operating income (or NOI) for established communities gained 4% during the quarter. While Metro New York and New Jersey contributed the highest gain of 24% to NOI growth during the quarter, its other regional areas of Northern California, Southern California, New England, the Mid-Atlantic region, and the Pacific Northwest contributed to its NOI growth.
AVB to continue its growth trajectory
With the help of mergers and acquisitions and development activities, AvalonBay is expected to overcome its current industrial headwinds. Analysts are optimistic about the company's ability to maintain its business momentum. AVB is expected to post top-line year-over-year growth of 5.6%, 5.0%, 5.8%, and 4.9% in 2Q17, 3Q17, 4Q17, and 1Q18, respectively.
AVB's major competitors include Equity Residential (EQR), UDR Inc. (UDR), and Essex Property (ESS). The iShares Trust – iShares Residential Real Estate Capped ETF (REZ) has a market cap–weighted index that covers a wide variety of industries such as healthcare, self-storage, and residential REITs. Investors who seek diversified exposure to these sectors can consider REZ as a cushion against market volatility. AVB forms 9% of REZ.
Next, let's find out a little more about the industry.