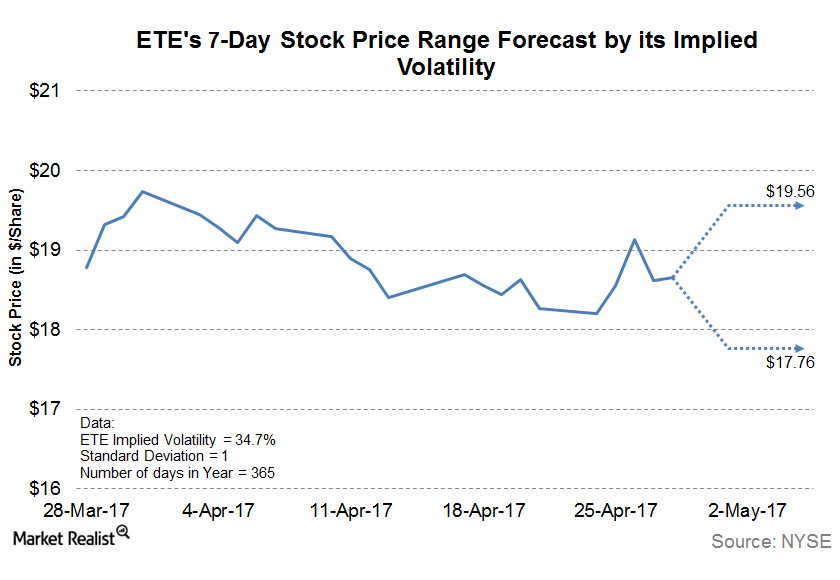 Will Energy Transfer Equity Build on Last Week's Gains This Week?
By Kurt Gallon

Dec. 4 2020, Updated 10:53 a.m. ET
Energy Transfer Equity's moving average
Energy Transfer Equity (ETE) recently went below its 50-day simple moving average driven by the decline in the last two trading sessions of last week. It's currently trading 1.2% below its 50-day SMA (simple moving average) and 5.6% above its 200-day SMA, which might indicate a bearish sentiment. When a stock's price exceeds a particular moving average, it's a bullish sign and vice versa. When a stock's shorter moving average crosses over its longer moving average, it's considered a "buy" signal for the stock.
Article continues below advertisement
Energy Transfer Equity's implied volatility
Energy Transfer Equity's 30-day implied volatility of 34.7% is higher than the sector average of 13.1%. This difference could be due to the recent volatility in crude oil prices. ETE subsidiary Energy Transfer Partners (ETP) has a relatively high crude oil exposure. ETE's stock might stay volatile for some time, given the current uncertainty in crude oil prices.
Based on the closing price of $18.7 on April 28 and assuming a normal distribution of prices, Energy Transfer Equity stock could trade in the range of $17.76–$19.56 this week. The price-range calculation in the above graph uses one standard deviation, which means that the stock price is expected to be within this range 68.0% of the time.