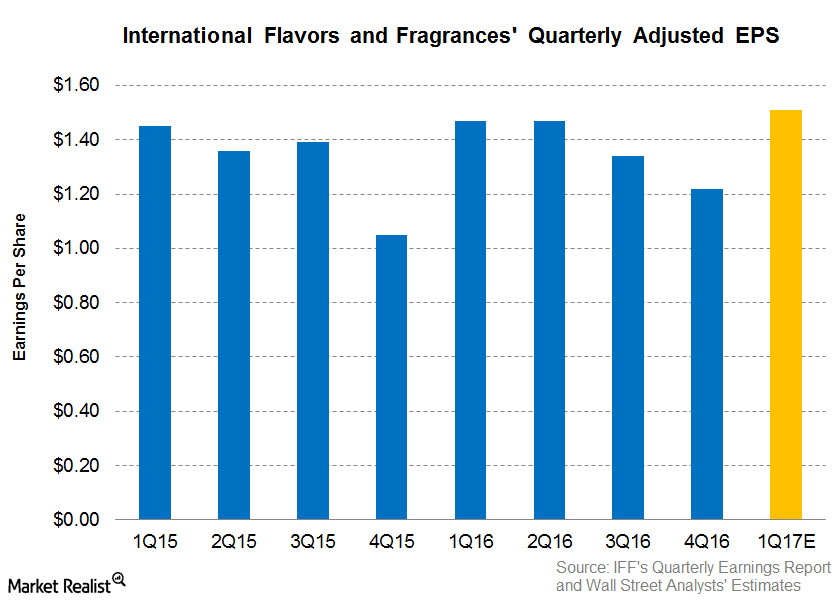 Why Analysts Expect IFF to Post Higher Adjusted EPS in 1Q17
Analysts' expectation for IFF's adjusted earnings per share
As of May 2, 2017, Wall Street analysts expect International Flavors and Fragrances (IFF) to post adjusted EPS (earnings per share) of $1.51, a growth of 2.7% year-over-year as compared to $1.47 in 1Q16.
With the expected revenue growth, International Flavors and Fragrance's earnings are also expected to rise provided operating expenses don't increase exponentially. The productivity measures taken by IFF are projected to reduce its workforce by 5% globally, enabling it to save between $40 million to $45 million by the end of 2019. In this regard, IFF will have pre-tax charges of $10 million in 1Q17. Further, analysts are expecting IFF's selling, general, and administrative (or SG&A) expenses to come down from $186.9 million in 1Q16 to $154.3 million in 1Q17. As a percentage of sales, SG&A expenses represented 23.9% of total revenue in 1Q17. Analysts expect the SG&A expenses in 1Q17 to be at 18.6% of the expected revenue.
Article continues below advertisement
Share repurchases
Along with the above factors, share repurchases will also help to boost IFF's earnings per share. In 4Q16, IFF repurchased 268,487 shares. IFF still had $109 million under its share repurchase program, which authorizes IFF to repurchase shares until December 2017. It remains to be seen how much IFF will boost its EPS through share repurchases in 1Q17.
Investors can indirectly hold International Flavors and Fragrances by investing in the Vanguard Materials ETF (VAW), which has invested 1.3% of its holdings in IFF as of May 2, 2017. The top holdings of this fund include Dow Chemical (DOW), DuPont (DD), and Monsanto (MON), which have weights of 8.4%, 8.3%, and 6.1%, respectively.
In the next part, we'll look into analysts' recommendations and the consensus price target for IFF ahead of its 1Q17 results.