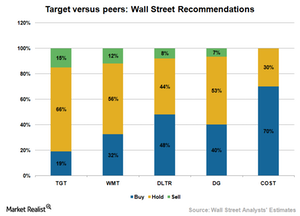 What Analysts Think of Target Stock
Ratings summary and target price
The majority of analysts covering Target (TGT) are neutral on the stock. Analysts' consensus rating on TGT was 2.9 on a scale of 1.0 (strong buy) to 5.0 (strong sell).
As we can see, 19.0% of analysts have recommended "buys" on Target stock, 66.0% have recommended "holds," and 15.0% have recommended "sells." On May 11, 2017, Target was trading at $56.06 per share, ~6.0% lower than analysts' 12-month price target of $59.43.
Despite Target's strategic initiatives to drive its top and bottom line growth, analysts remain on the fence, as most of the positives stemming from the company's efforts will take a couple of years' time before meaningfully impacting its financials.
Article continues below advertisement
In the meantime, the company is expected to post sluggish sales and EPS (earnings per share) growth, given its near-term challenges. Its management expects a low single-digit fall in comps in 1Q17 and in 2017 as a whole. Meanwhile, its bottom line results will likely be impacted by increased pricing investments and lower sales.
Investors seeking exposure to Target through ETFs can invest in the Oppenheimer Ultra Dividend Revenue ETF (RDIV), which has 5.5% of its total holdings in the company.
Peer comparison
Of the 35 analysts covering Walmart (WMT), ~32% have recommended "buys" on the stock, while 56.0% have recommended "holds," and 12.0% have recommended "sells." As for Costco (COST), 70.0% have rated the stock as a "buy," while 30.0% have rated it as a "hold."
For Dollar Tree (DLTR), 48.0% of analysts have rated the stock as a "buy," 44.0% have rated it as a "hold," and ~8.0% have rated it as a "sell." Of the 30 analysts covering Dollar General (DG), 40.0% have rated it as a "buy," while 53.0% have rated it as a "hold," and 7.0% have rated it as a "sell."