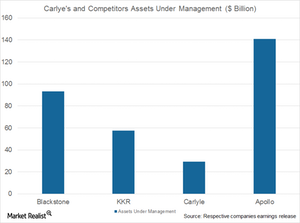 Understanding Carlyle's Improved Performance despite Rate Hike Expectations
CG's rise in fee-related earnings
Carlyle Group (CG) has a number of credit strategies in place, and for its LPs (limited partnerships), the company is planning to invest in new credit strategies with a fundraising target of $100 billion. The company expects its Global Market Strategies business to contribute 20%.
Carlyle has been reporting improved fee-related numbers in its Global Market Strategies segment, which reached $3 million in 1Q17, as compared to its loss -$1 million in 1Q16. The company's net realized performance income came in at $3 million in 1Q17, as compared to $1 million in 1Q16, on the back of realized gains in the company's BDC (Business Development Company) segment.
Article continues below advertisement
CG closes its first 2017 CLO in the US
Carlyle has finally closed its first 2017 CLO (collateralized loan obligation) for an amount of $612 million. Carlyle's AUM (assets under management) in Global Market Strategies stands at $29.4 billion.
CG's performance in this segment is expected to show a rising trend that should, in turn, result in an earnings rise on the back of the performances among other segments.
For 1Q17, Carlyle's competitors reported the following AUMs:
CG raises $2.5 billion
In its fourth distressed and special situations fund, Carlyle Strategic Partners IV raised $2.5 billion. Notably, to make risk-adjusted returns, Carlyle Strategic Partners IV drives value through operational improvements.
The company is expected to perform better in upcoming quarters, and additional support could lead to CSP IV to source a number of new deals. The current market environment is also expected to provide better investment opportunities, and Carlyle should see a stronger performance during the next cycle.
Notably, Blackstone (BX), Apollo Global Management (APO), and KKR (KKR) together account for 4.67% of the PowerShares Global Listed Private Equity ETF (PSP).