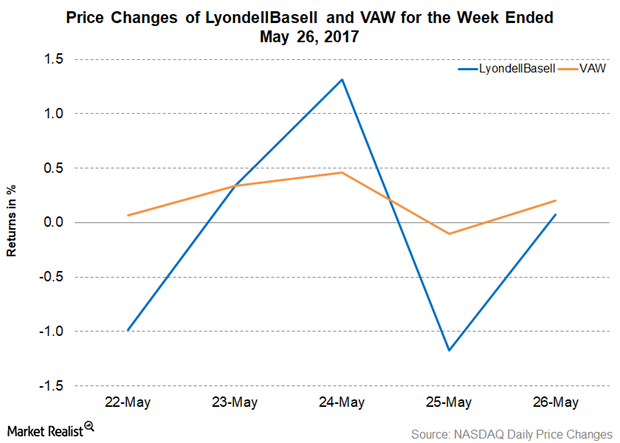 LyondellBasell Announces New Share Repurchase Program
LyondellBasell can repurchase up to 10% in next 18 months
On May 24, 2017, LyondellBasell Industries' (LYB) board of directors authorized a new share repurchase program. It was approved by LYB shareholders at its annual general meeting. According to the new repurchase program, LYB can repurchase up to 10% of its outstanding shares over the next 18 months. LYB will repurchase shares through open market operations and private negotiations. As of May 22, 2017, LYB reported approximately 401.0 million outstanding shares.
LYB also announced a dividend of $0.90 per share that will be paid on June 12, 2017. For LYB's 2Q17 dividend analysis, please refer to our series LyondellBasell Pleases Investors with Dividend Increase.
Article continues below advertisement
LyondellBasell stock for week ended May 26
For the week ended May 26, 2017, LYB closed at $80.73, falling 0.50% for the week. The stock was trading 8.9% below its 100-day moving average of $88.60, indicating a downward trend. On a year-to-date basis, LYB has fallen 5.9%. With a 14-day RSI (relative strength index) of 42, LYB is neither overbought nor oversold. An RSI of 70 indicates that a stock is overbought, and a score of 30 suggests that a stock is oversold.
LYB's 52-week low is $69.82, and its 52-week high is $97.64. LYB underperformed the Vanguard Materials ETF (VAW), which rose 1.0% for the week ended May 26, 2017.
VAW has invested 3.4% of its holdings in LyondellBasell. The other top holdings of the fund include Dow Chemical (DOW), DuPont (DD), and Monsanto (MON), with weights of 8.3%, 8.2%, and 6.2%, respectively, as of May 26, 2017.