GGP and Other Retail REITs Struggle to Exist in Digital Era
During 1Q17, General Growth Properties' (GGP) occupancy rate (same-store leased percentage) fell to 95.9% from 96.6% in 1Q16.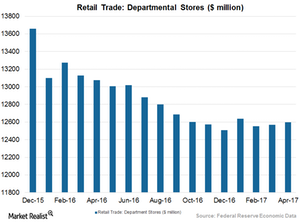 Gloomy state of affairs for retailers
Mall owners have been suffering for quite some time as consumers seem to prefer the convenience of online shopping rather than going to malls. The rise of e-commerce provides the flexibility of shopping from anywhere at any time. As a result, the majority of anchor tenants are experiencing declining traffic and sales.
After experiencing dwindling traffic and sales at their brick-and-mortar stores for several months, these retailers eventually shut down some stores in order to remain profitable. As a result, some malls must part with their long-time anchor tenants.
Retail giants like Sears Holdings (SHLD), Macy's (M), and JCPenney (JCP) have been shutting down hundreds of stores over the past few years. While JCPenney plans to shut down 138 stores in 2017, Sears Holdings and Macy's plan to shut down 42 stores and 48 stores, respectively.
Article continues below advertisement
Article continues below advertisement
According to Federal Reserve economic data, retail trade of department stores decreased from $13.7 billion in December 2015 to $12.6 billion in April 2017. Department stores have traditionally been the main traffic drivers of the malls. Once department stores exit the malls, the owners find it difficult to replace the large square footage they once occupied.
Meanwhile, e-commerce has been fast capturing the market share of retailers, particularly affecting the apparel category. Federal Reserve economic data reveals that e-commerce as a percentage of total sales has risen from 5.1% in January 2012 to 8.5% in January 2017.
GGP's shrinking occupancy
General Growth Properties (GGP) is no exception to its industry's trends. During 1Q17, GGP's (GGP) occupancy rate (same-store leased percentage) fell to 95.9% from 96.6% in 1Q16. This was mainly due to bankruptcies of tenants occupying the malls.
These store closures affected 1.2 million square feet of the company's portfolio during 1Q17. The occupancy rate was the lowest since 4Q15 during the quarter.
Its close competitors Simon Property Group (SPG), DDR (DDR), Macerich (MAC), and Kimco Realty (KIM) reported occupancy rates of 94.3%, 92.3%, 94.3%, and 95.3%, respectively.
General Growth Properties forms ~1.5% of the Vanguard REIT ETF (VNQ).
In the next article, we will find out how mall owners are combating the threat posed by e-commerce.