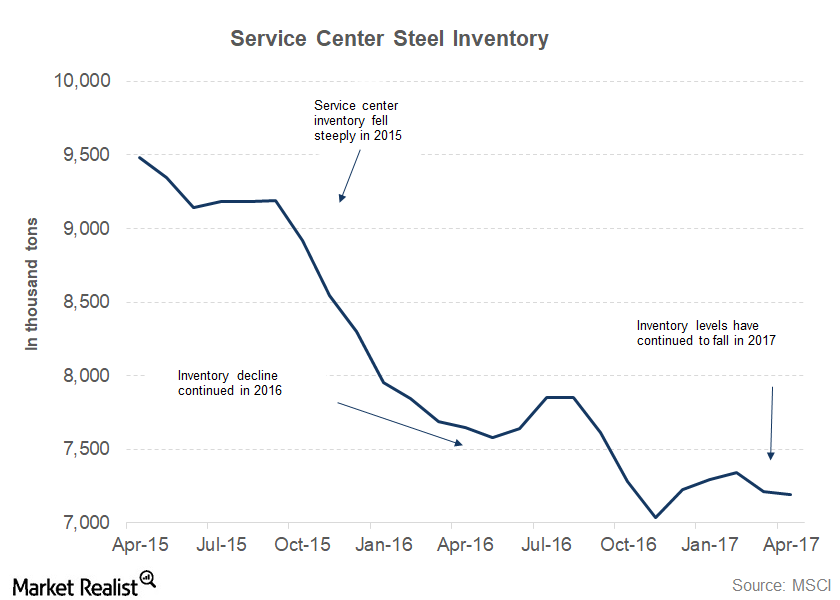 Despite Gloomy Outlook, It's Not the End of Road for Steel Stocks
US steelmakers
According to estimates, service centers supply more than a quarter of the total steel in the United States. Service center inventory levels continue to fall in 2017. According to the Metals Service Center Institute, at current shipping rates, the service center steel inventory represents 2.3 months' worth of supply.
Low supply chain inventories bode well for US steel companies, which are expecting a restocking this year after two consecutive years of inventory destocking.
Article continues below advertisement
With US steel prices at a substantial premium to international steel prices and with expectations of a downward correction in steel prices in 2H17, service centers don't seem to be in a hurry to replenish their stocks. Meanwhile, service centers could also look at foreign steel companies to take advantage of widening price spreads.
Trade protection
US steel companies are banking on the Trump administration's protectionist trade policies. US steelmakers such as U.S. Steel Corporation (X), AK Steel (AKS), and Nucor (NUE) stand to gain from duties against imported steel products, as they help them protect their turf from foreign steelmakers.
As we noted previously, Trump has ordered an investigation into whether steel imports threaten US national security. If the US decides to impose a blanket ban on steel imports, it would provide pricing power to US steel mills and protect US steel prices from international developments.
The final word
In our view, the sentimental impact of Trump's presidency is now waning. Now, we need to see some action—both on the proposed infrastructure investments and trade policies—to boost the US steel industry (MT) (STLD).
Having said that, it would not be easy for the Trump administration to impose a blanket ban on steel imports. You can read Steel Companies Celebrate Trump's Inquiry into Steel Exports to explore this in detail.
You can visit our Steel page for ongoing updates on this industry.