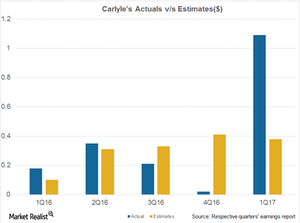 Carlyle Saw Impressive 1Q17 Results, but Can It Sustain?
Remarkable performance in 1Q17
After a subdued performance in 4Q16 due to heavy losses in the company's Global Market Strategies segment, Carlyle Group (CG) reported improved numbers in 1Q17. In terms of value creation, this was the company's second-strongest quarter after its public offering, mainly due to its increase in ENI (economic net income).
Major competitors KKR (KKR) and Blackstone (BX) reported ENIs of $549.9 million and $986 million, respectively.
Carlyle beat the analysts' EPS (earnings per share) estimates of $0.38, reporting EPS of $1.09 backed by a strong investment performance, which is mainly due to its carry fund portfolio appreciation of 6%.
As a result of its increasing ENI, the company's net accrued carry balance has shown a sequential rise of 35% over 2Q17's ~$1.1 billion to $1.4 billion. This amounts to a sequential increase of ~35% in accrued carry.
Carlyle is seeking a positive environment for fund raising, and as a result, the company's fundraising efforts are picking up pace. Despite heavy competition in deployments, CG aims to employ more capital in new investments in upcoming quarters, including exits of around $4 billion.
Notably, Blackstone (BX), Apollo Global Management (APO), and KKR (KKR) together make up 4.67% of the PowerShares Global Listed Private Equity ETF (PSP).
Article continues below advertisement
Focus required
After reporting strong numbers in ENI and having a positive outlook for its Energy Lending business, the company may shift focus to its real estate credit. Opportunistic credit is another area where the company may focus going forward.
Carlyle's DE (distributable earnings) in its Corporate Private Equity segment posted weaker numbers as compared to 1Q16. Its DE for 1Q17 was $35 million, as compared to $105 million in 1Q16.