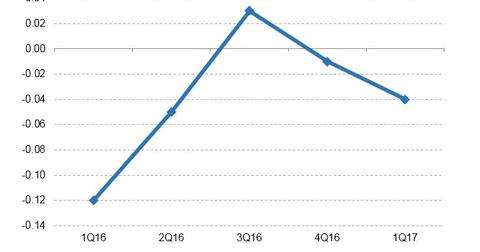 Are Advanced Micro Devices' Innovations Paying Off?
By Ruchi Gupta

Updated
New desktop chips launched
Advanced Micro Devices (AMD) has pumped a lot of money into research and development efforts as it seeks to build new products that can differentiate it from the competition. It started rolling out some of those new products in 1Q17, and several more will be introduced in the course of the current quarter. The new products launched in 1Q17 included members of the Ryzen family of desktop chips.
Looking at how AMD's top line fared in the quarter, it's fair to conclude that the launch of the Ryzen chip had a positive impact. AMD's 1Q17 revenues rose 18% to $984 million, which was in line with the consensus estimate. 
Although revenues from the Computing and Graphics segment declined, support from its Ryzen chips ensured that the decline was better than its seasonal average.
Article continues below advertisement
Losses shrink as new products lift the top line
Its top line improvement helped Advanced Micro Devices (AMD) cut its 1Q17 net loss to $73.0 million from $100 million in 1Q16. Excluding certain items, AMD posted an adjusted EPS (earnings per share) loss of $0.04. 
This loss was in line with the consensus estimate, but it was better than its EPS loss of $0.12 in 1Q16. The chart above shows AMD's quarterly EPS trend.
Looking ahead
AMD's 1Q17 results indicate that its innovations are having a positive impact on the company's financials. It remains to be seen whether the other new products to be launched could have a similar positive contribution to its top and bottom lines.
Advanced Micro Devices intends to launch the Naples line of server chips this quarter, a move that could stir the data center competition for Intel (INTC). AMD's business, which supplies Sony (SNE) and Microsoft (MSFT) with graphics chips for their consoles, disappointed in 1Q17. So, it remains to be seen whether the Vegas line of graphic chips could revitalize that business and help AMD fend off competition from Nvidia (NVDA).