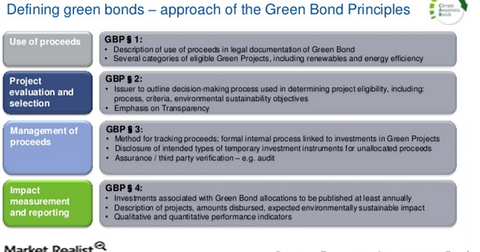 How Apple Has Used the Proceeds from Its Green Bond
By VanEck

Updated
VanEck
A defining characteristic of green bonds since the market's inception has been the focus on disclosure. In particular, specifying the use of proceeds provides investors with a way to easily identify green bonds and an additional layer of transparency compared to conventional bonds. In addition, the Green Bond Principles encourage issuers to report annually on their green bonds, outlining the amounts allocated to specific projects and their expected environmental impacts, based on both qualitative and quantitative measures. An excellent example is Apple's recently published annual report on its green bond issuance, in which the company outlines how it invested its green bond proceeds so far.
Article continues below advertisement
Thanks to the reporting provided by issuers like Apple, investors can now get a sense of the impact a green bond is having on climate change. However, there is still progress to be made on impact reporting. Reporting is not consistent across issuers, and comparisons are challenging due to the different methodologies and assumptions for calculating the potential impact of a project. Availability of data can also be an issue.
Fortunately, there has been an increased emphasis on progressing towards harmonized methodologies and consistent reporting. Progress is being driven by investor demand, as well as a common interest from issuers, underwriters, and regulators in seeing the green bond market grow. In addition, significant work is being done by firms such as S&P Global Ratings to provide new tools to evaluate the impact of green bonds, which may help investors estimate climate impact in a standardized way across bonds, or in cases where reported data may be insufficient.
Market Realist
As we mentioned in the previous part, while these Green Bond Principles are voluntary, investors expect the issuers to follow these principles.
Apple (AAPL) issued $1.5 billion in bonds dedicated to financing clean energy projects across its global business operations in February 2015. Apple's first green bond will mature in 2023. The bond has a coupon of 2.9%, and Moody's has rated it "Aa1."
Apple's bond was the largest green bond (GRNB) issued by an American company. Apple is using the proceeds from the green bond issuance to finance renewable energy, green buildings, energy storage and energy efficiency projects, and resource conservation efforts.
In Apple's 2016 fiscal year, it reportedly allocated an initial $441.5 million of green bond proceeds over 16 projects. These projects are likely to have a massive impact. We'll discuss the impact of these projects in the next part of the series.