Analyzing Canadian National Railway's Intermodal Volumes
Canadian National Railway's intermodal volumes In the 17th week of 2017, Canadian National Railway's (CNI) overall intermodal volumes rose 9.4%. There was no trailer movement in the week. The company moved more than 47,000 containers in the 17th week of 2017, compared with more than 43,000 containers in the corresponding week of 2016. The rise […]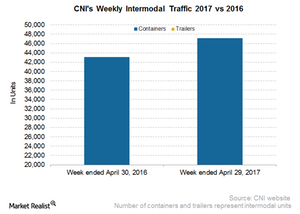 Canadian National Railway's intermodal volumes
In the 17th week of 2017, Canadian National Railway's (CNI) overall intermodal volumes rose 9.4%. There was no trailer movement in the week.
The company moved more than 47,000 containers in the 17th week of 2017, compared with more than 43,000 containers in the corresponding week of 2016. The rise in Canadian National's intermodal volumes was much higher than the overall figures reported by US and Canadian railroad companies. Even the company's intermodal traffic, in percentage terms, was ahead of close rival Canadian Pacific's (CP).
Article continues below advertisement
Article continues below advertisement
Why is intermodal traffic important for Canadian National?
Canadian National Railway's intermodal segment contributed more than 25.0% of the company's total revenue in 2016. Of its total carloads in the year, intermodal's share was ~42.0%. Canadian National Railway also operates one of the largest trucking services in Canada, which supplements its intermodal business.
Canadian National's competitive advantage is its sole access to the Port of Prince Rupert in British Columbia. Canadian National connects Vancouver, British Columbia, with Prince Rupert in a long arc, providing opportunities for the company to move containers from Asia to the US heartland.
Canadian National's domestic segment is driven by consumer markets and US and Canadian economic growth. The company's international intermodal segment is largely influenced by North American economic and trade conditions. In the intermodal sector, Canadian National Railway faces competition from truckload companies such as J.B. Hunt Transport Services (JBHT), Swift Transportation (SWFT), and Landstar System (LSTR).
ETF option
If you're looking for exposure to the transportation sector, you can invest in the Guggenheim S&P 500 Equal Weight ETF (RSP). All US-originated Class I railroad companies are included in RSP's portfolio holdings. In the next part of this series, we'll take a look at Canadian Pacific Railway's (CP) weekly rail traffic data.