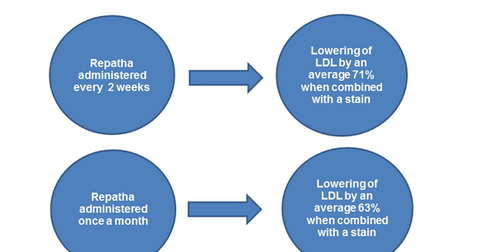 Amgen's Repatha Could Gain Market Share in 2017
By Daniel Collins

Updated
Repatha witnessing high market growth
In 1Q17, Amgen's (AMGN) Repatha witnessed quarter-over-quarter growth in sales volume of ~14% and 28% in the US and Europe, respectively. In Europe, Repatha reached 56% new-to-brand prescription (or NBRx) share in the PCSK9 class of drugs at the end of 2016. 
In the US, the drug's segment share was nearly 64%. The high revenue growth in 4Q16 was primarily due to the booking of a tender in the Middle East.
Article continues below advertisement
The FOURIER clinical trial demonstrated Repatha's efficacy in reducing myocardial infarction and strokes. The drug has been found to significantly reduce low-density lipoprotein (or LDL) levels in the blood when combined with the highest dose of statin. The significantly superior clinical trial data cold help Amgen in the international commercialization of the drug and in securing reimbursement from payers.
The company is strategically working toward reducing all prescribing barriers and creating a favorable scenario for increased distribution of the drug.
Mechanism of action
Repatha (evolocumab) is a monoclonal antibody developed to target enzyme proprotein convertase subtilisin/kesin type 9 (or PCSK9). The drug is indicated for the management of LDL cholesterol in individuals with heterozygous familial hypercholesterolemia (or HeFH), homozygous familial hypercholesterolemia (or HoFH), and clinical atherosclerotic cardiovascular disease (or CVD). 
Repatha binds to circulating PCSK9, impeding the enzyme's capability to bind to the LDL receptor (or LDLR). Hence, the PCSK9 mediated LDLR degradation is inhibited, and LDLR is allowed to recycle to the liver surface. This prevention of binding of PCSK9 to LDLR leads to an increase in the number of LDL receptors for clearance of LDL from the blood and subsequently lowers the LDL cholesterol level.
Repatha is the second approved product of the PCSK9 class after Regeneron (REGN) and Sanofi's (SNY) Praluent. Repatha is expected to gain considerable market share internationally by the end of 2017. Peers in the dyslipidemia drugs market include Pfizer's (PFE) Lipitor, Novartis' Lescol, and AstraZeneca's Crestor.
The success of Repatha is expected to fuel share prices of the PowerShares QQQ ETF (QQQ). Amgen makes up ~2.0% of QQQ's total portfolio holdings.
In the next article, we'll discuss Amgen's monoclonal antibody, Blincyto.