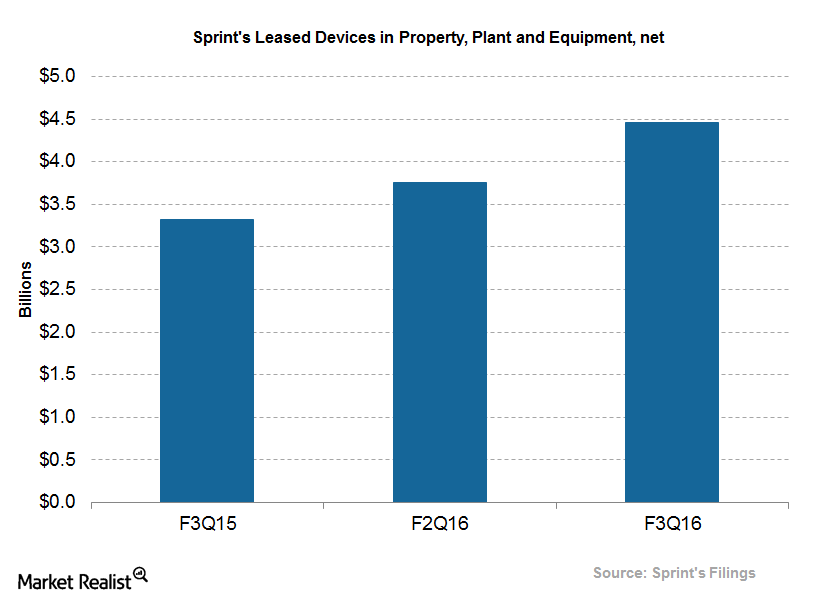 Why Sprint Is Focusing on Handset Leasing to Accelerate Growth
Sprint's leased devices
Sprint's (S) device leasing has helped it regain its financial position. The take rate of Sprint's leasing plans has surpassed its installment plans in the last few quarters. As a result, due to the financial benefits of leasing, Sprint's lease revenues could increase going forward.
Article continues below advertisement
According to a FierceWireless report on April 21, 2017, "Sprint launched an ambitious promotion in an effort to leverage Samsung's latest flagship phone." The report added, "Sprint launched a two-for-one deal enabling users to pay $31.25 a month to lease two devices when they activate a new line. The promotion will last only one week and will enable customers to upgrade to a new Galaxy device any time after 12 lease payments under the carrier's Galaxy Forever plan."
In fiscal 3Q16, which ended December 2016, the take rate of Sprint's leasing plans reached ~43%. As you can see in the above chart, net leased devices were valued at ~$4.5 billion at the end of fiscal 3Q16. During fiscal 3Q15, this figure was ~$3.3 billion.
Among the top four US wireless players, Sprint and T-Mobile (TMUS) offer leasing plans. Verizon (VZ) and AT&T (T) do not.
Article continues below advertisement
Sprint's handset leasing benefits
Additionally, during the Deutsche Bank Media, Internet and Telecom Conference held on March 7, 2017, Tarek Robbiati, Sprint's chief financial officer, spoke about the benefits handset leasing has offered to Sprint: "We've been pretty good promoting leasing and allowing customers to benefit from being always with the latest and greatest technology.
And as a return to those forms we face multiple choices available to us either we can sell those phones or we can recycle those phones and give them a second life. And we have done so."
Robbiati added that Sprint views leasing as a way to monetize assets multiple times over their life. As an example, he said, "The phones that we get back are put back into the market for prepaid, with different types of levels of guarantee."