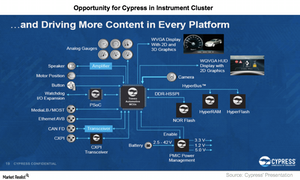 Why Cypress Is Targeting Instrument Clusters
By Puja Tayal

Updated
Cypress's area of focus in automotive
The chip market is consolidating in order to tap the big opportunities in the automotive industry, with Qualcomm (QCOM) acquiring NXP Semiconductors (NXPI) and Intel (INTC) acquiring Mobileye (MBLY). Now, Cypress Semiconductor (CY) has acquired Spansion to boost its automotive presence.
Specifically, within automotive, Cypress is eyeing five major segments: instrument clusters, infotainment, connected cars, ADAS (advanced driver assistance system), and body electronics.
Article continues below advertisement
Instrument cluster
The instrument cluster is the digital dashboard in front of the car driver that displays controls and instrumentation of the vehicle operation. Cypress estimates that the instrument cluster market will grow at a CAGR (compound annual growth rate) of 7.1% between 2016 and 2021 as more and more content is added.
What is driving content?
At the company's 2017 Analyst Day, Cypress CEO (chief executive officer) Hassane El-Khoury touched on the opportunity presented by instrument clusters. He stated that increasing automation in cars is changing the automotive market, and while previously, consumers had based their buying decisions on engines and gas mileage, now, they'll be basing their decisions cockpit features.
This shift will likely drive demand for more graphics, more HMI (human-to-machine interface), more LCDs (liquid crystal display). El-Khoury stated that the LCD screens, which were earlier used in high-end cars, are now coming in mid- and low-end cars, increasing the market of LCD.
But more LCDs and graphics require more memory, while more controllers require PMIC (power management integrated circuit), and increasing complexity requires better MCUs (microcontrollers). All these factors are driving content in car instrument clusters.
Cypress, a leader in MCUs
Cypress is now a market leader of MCUs for car instrument clusters, with a 38% market share, and the company has grown in this space, both organically and through acquisitions. It offers CapSense capacitive-sensing solutions, TrueTouch touchscreens, PMICs, LED (light emitting diode) drivers, and programmable system on chips. Its memory and MCU offerings for automotive, by contrast, were a result of the Spansion merger.
Now let's look at Cypress' presence in the car infotainment and connectivity segments.