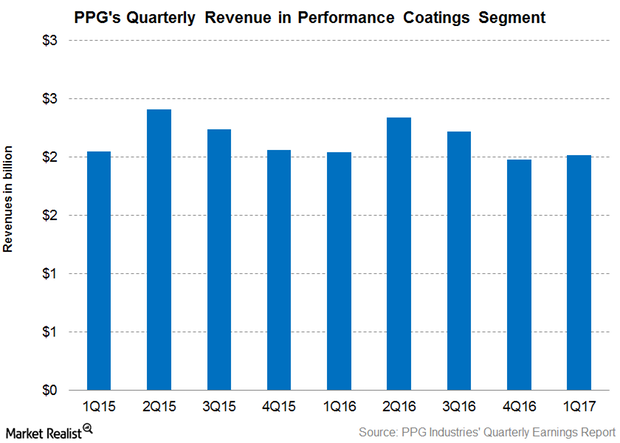 What Hurt PPG's Performance Coatings Segment in 1Q17?
PPG Industries' Performance Coatings segment in 1Q17
PPG Industries' (PPG) Performance Coatings segment is its largest revenue contributor. The segment accounted for 56.5% of total revenue in 1Q17. The segment reported revenue of $2.0 billion in 1Q17, a 1.1% fall YoY (year-over-year).
The segment's overall sales volume remained in line with volumes in 1Q16 with positive growth in selling prices. However, this segment is more vulnerable to foreign exchange movement. The segment saw a negative impact from foreign currency translation of $45 million, or approximately 2%. The dollar's weakness against the Mexican peso, the euro, and the British pound was the primary driver of foreign exchange translation losses.
Article continues below advertisement
Net income and margin
The Performance Coatings segment reported a net income of $285 million in 1Q17 as compared to $279 million in 1Q16, a 2% increase YoY. The segment reported a net income margin of 14.1% in 1Q17, an increase of 40 basis points over 1Q16's net income margin of 13.7%. Although foreign currency translation negatively impacted net income to the tune of $10 million, the segment benefitted from the recent restructuring plan.
Segment outlook
The segment's outlook for 2Q17 appears to be cautiously optimistic. PPG is expected to increase prices on a few of its products due to the increase in raw material prices. The demand in the architectural coatings business is expected to grow in the Western Europe, Latin America, and Asia Pacific regions, while demand in the US and Canada is expected to remain constant. Acquisition-related sales will also contribute to revenue growth.
On the other hand, foreign currency translation could adversely affect revenues if the dollar continues to be weak against the pound, the euro, and the Mexican peso. The company's Marine segment is expected to continue to see weakness in 2Q17 as well.
Investors can indirectly hold PPG Industries by investing in the Vanguard Materials ETF (VAW), which invests 4.3% of its total portfolio in PPG Industries as of April 21, 2017. The top holdings of VAW include Dow Chemical (DOW), DuPont (DD), and Monsanto (MON) with weights of 8.5%, 8.4%, and 6.2%, respectively, on April 21, 2017.
In the next part, we'll move to PPG's Industrial Coatings segment's performance.