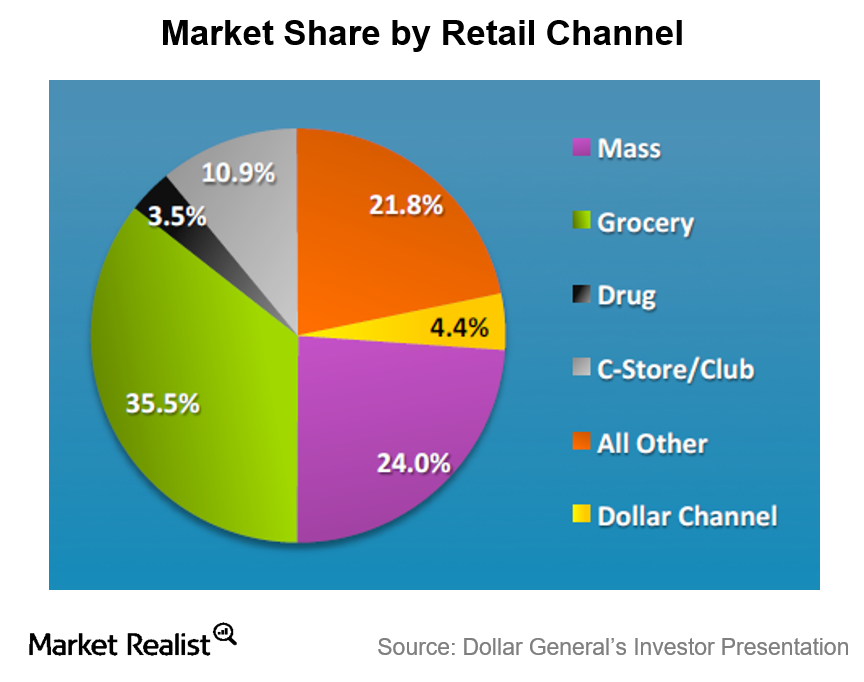 Understanding the US Dollar Store Industry
A quick overview of the US dollar store industry
Dollar stores follow a small-box format to maintain low costs. Target customers are typically lower- and middle-income families.
The dollar store industry has been one of the fastest-growing retail subsectors. According to retail research firm Conlumino, total dollar store sales have increased from $30.4 billion in 2010 to $45.3 billion in 2015, which is around a 50% growth rate. This growth has outpaced the 17% rise in total retail sales during the same period.
The dollar industry is highly concentrated. The top two players, Dollar General (DG) and Dollar Tree (DLTR), account for more than 75% of the market share. The two companies operate about 28,000 stores currently.
Dollar stores face intense competition from other retailers, including grocery chains like Kroger (KR), mass merchandisers like Walmart (WMT), convenience stores like Casey's (CASY), and other variety and specialty stores.
Investors looking for exposure to Dollar General, Dollar Tree, Walmart, Kroger, and Casey's can consider investing in the SPDR S&P Retail ETF (XRT), which invests 5.6% of its total holdings in the companies.
Article continues below advertisement
2017 outlook for the dollar store industry
According to a recent report from Moody's, the retail sector has a stable outlook for 2017, with an expected 3%–4% increase in total sales and a 4%–5% jump in operating income.
The performance of dollar stores is likely to be among the best of the retail subsectors with operating income growth exceeding the upper range of 5% growth.
"Dollar stores will be among the top-performers in 2017, as cash-strapped consumers look to save money on multiple fronts," commented Mickey Chadha, senior credit officer at Moody's.
Read the next part of this series to learn about Dollar General's business strategies.