The U.S. Steel Bulls Only Hope?
Analysts' opinions remain divided over U.S. Steel (X) after its 1Q17 earnings results.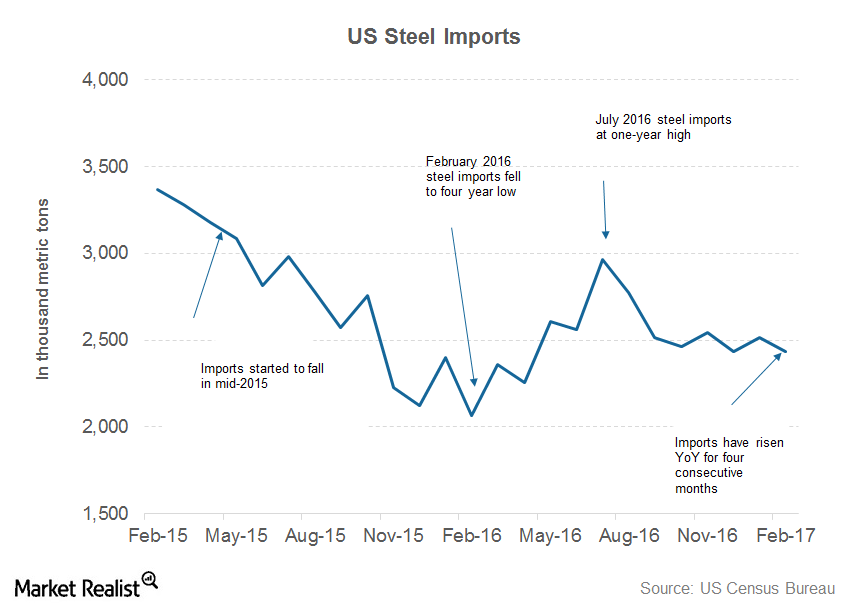 U.S. Steel bulls
As we've already discussed in this series, U.S. Steel's (X) 1Q17 earnings and 2017 guidance spooked markets, and the stock saw a negative price action of 26.8% on April 26, following the company's earnings release. But analysts' opinions have been divided over U.S. Steel. While some brokerages—especially J.P. Morgan—have been overly bullish on the stock, firms like Axiom have been settling deep into the bear camp.
Article continues below advertisement
Article continues below advertisement
Over the past 15 months, the bears (SDS) have had little to celebrate as U.S. Steel's stock has been defying gravity. In 3Q16, when US steel prices fell steeply, the bear victory was short-lived, with Donald Trump's election changing the picture for U.S. Steel and steelmaking peers ArcelorMittal (MT) and Steel Dynamics (STLD).
Thanks to the post-election rally, both U.S. Steel and AK Steel (AKS) rose more than 300% in 2016.
What now?
But after the 1Q17 earnings, U.S. Steel bulls might be getting squeamish. Although the US steel industry has been doing generally well, with companies like Nucor (NUE) posting multiyear high profits in 1Q17, U.S. Steel has clearly failed to capitalize on higher steel prices.
Although we could see the stock erase some of its losses in the coming trading sessions, U.S. Steel might have a tough time winning back the market's lost love. For now, the only hope that U.S. Steel bulls may have is from the Trump administration's investigation into steel imports.
If the US decides to levy a blanket import tax, the scenario could change for U.S. Steel. You can read Steel Companies Celebrate Trump's Inquiry into Steel Exports for more on what a blanket import tax would mean for US steelmakers.
For ongoing updates on this industry, visit our Steel page.