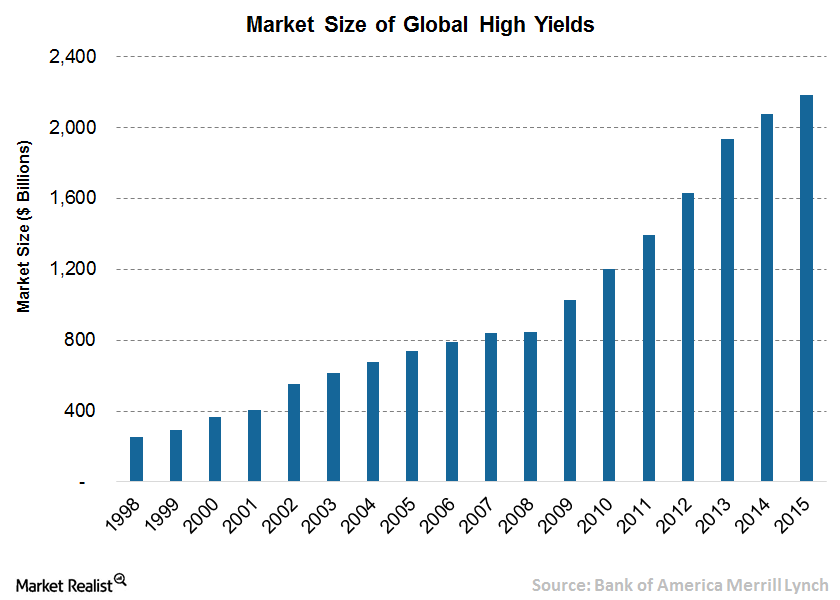 Rapid Growth in Global High-Yield Market
AB
Is This a Global Story?
In our view, designing a high-yield allocation today should involve a global perspective.
Our analysis focuses on US high-yield bonds, in large part because this market provides a lengthier historical data set than other high-yield markets do. But the global market for high-yield bonds continues to expand and evolve: European high-yield bonds, for instance, have become a growing market, and have been aided by the launch of the euro currency.
Article continues below advertisement
We believe that investors can access even greater diversification and flexibility in a high-yield allocation by looking across borders and incorporating not only high-yield bonds, but sectors such as emerging-market debt—sovereign and corporate—and other fixed-income securities that offer potential for high income. This unconstrained approach provides greater flexibility in optimizing a high-yield allocation.
Market Realist
Global high yield market has witnessed tremendous growth
The global high yield (HYXU) (IHY) bond market has grown rapidly over the past ten years. The current market size is around $2.2 trillion, up from $755 billion in 2005. Although the US remains its largest player, the market has become more geographically diverse over the years. North America's share of the market has fallen from 87.1% in 2005 to 62.6%. Meanwhile, Europe's share rose from 12.4% to 20.6%, and emerging markets' share jumped from 0.5% to 16.8%.
Article continues below advertisement
High yield markets outside the United States
The growth of the high yield (GHYG) (JNK) market in Europe and emerging nations echoes US markets' evolution. In recent years, growth in the European market has been affected by the weak banking system not able to fulfill the funding needs of corporates, resulting in companies accessing public markets. Growth in emerging markets is mainly due to robust economic growth. The emergence of high yield markets outside the United States significantly increases investment avenues and grants investors the opportunity to participate in growth stories. Exposure to the global high yield market may also help investors manage risk through diversification across economies and sectors.
Attractive returns
The global high yield (EMHY) market could also offer higher returns than the US market. Between 1999 and 2015, the global high yield market generated an annualized return of 7.1%, better than the 7.0% earned by US high yield bonds. During this period, emerging markets' returns expanded while the European market's contracted slightly.