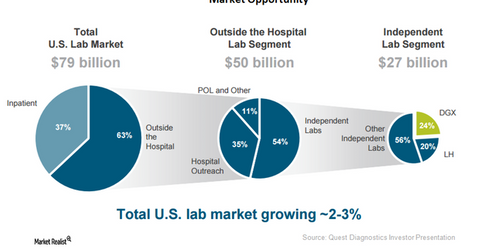 Quest Diagnostics Could Get Greater Share of Laboratory Segment
By Margaret Patrick

Updated
Independent laboratory market
With around 50.0% of hospitals being served by Quest Diagnostics (DGX), the company has become a leading player in the fragmented US laboratory market. The company also has access to approximately 80.0% of the insured population in the country.
Quest Diagnostics also offers its services to half the physicians in the country through its advanced technology systems such as Care360. The company has made more than 250,000 placements of Care360, which is now being used by around 470,000 physicians.
If Quest Diagnostics manages to increase its market share in the US laboratory segment in 2017, it may have a positive impact on its stock as well as the Vanguard Mid-Cap ETF (VO). Quest Diagnostics makes up about 0.40% of VO's total portfolio holdings.
The above diagram shows that Quest Diagnostics accounts for 24.0% of the independent laboratory segment in the United States. About a 20.0% share is attributed to Laboratory Corporation of America Holdings (LH).
Article continues below advertisement
Retail segment strategy
To expand its reach in the retail segment, Quest Diagnostics has entered into an agreement with Safeway, a major US food and drug retailer. Quest currently offers diagnostic testing services in 65 Safeway stores through 2,200 company branded PSCs (Patient Service Centers. Quest Diagnostics expects to add an additional 200 PSCs at Safeway stores by the end of 2017.
Effective implementation of this retail strategy may give Quest Diagnostics a competitive advantage over peers such as DaVita HealthCare Partners (DVA) and Idexx Laboratories (IDXX).
The company also employs around 3,800 phlebotomists at physicians' offices. Together with PSCs, they provide around 6,000 access points to patients for using Quest Diagnostics' services. By expanding access, the company aims to reduce the number of unfulfilled laboratory requisition orders, which is currently about 15.0%–20.0% of the total prescribed orders. It's also expected to improve customer experience, which may result in an additional demand for its services in the future.
In the next part of this series, we'll take a look at the growth opportunity for Quest Diagnostics in the US laboratory segment.