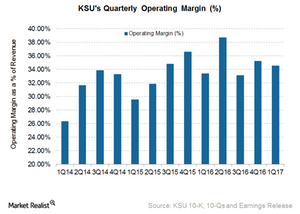 Kansas City Southern's Operating Margin Rose in 1Q17
By Samuel Prince

Updated
KSU's operating margin in 1Q17
Kansas City Southern (KSU) reported a 120-basis-point rise in its 1Q17 operating margin. KSU recorded 34.6% operating margin in 1Q17, compared to a 33.4% in 1Q16.
Note that the company's revenue rose 8.3% on a YoY (year-over-year) basis in 1Q17. On the other hand, KSU's operating expenses rose 6.4% to $398.8 million in 1Q17, compared to $374.8 million in 1Q16.
Note that most of this improvement was due to the positive impact of a Mexican fuel excise tax credit for $11.7 million. In the last eight years, KSU's operating margin has expanded over 12%.
Article continues below advertisement
Major operating expenses
In 1Q17, KSU's compensation and benefits expenses rose to $117.4 million, a rise of 6.6% compared to 1Q16. The company witnessed wage inflation rise of $4.0 million along with benefit inflation of $4.0 million. The rising funding of KSU's US union benefits obligations resulted in the rise of benefit expenses.
Fuel charges for Kansas City Southern rose by 32.8% to $75.6 million in 1Q17 on a YoY basis. Fuel charges were negatively impacted by increased consumption and higher fuel prices. The average locomotive fuel price in the United States and Mexico was $1.81 per gallon in 1Q16 against $2.19 in 1Q17.
In 1Q17, KSU's purchased services expenses were $48.8 million, down 4.1% compared with $50.9 million in 1Q16. Restructuring of the maintenance contract and reduced repairs resulting from lower volumes decreased overall purchased services in 1Q17.
Outlook
For 2017, Kansas City Southern expects the Mexican excise tax credit to be $45.0 million–$50.0 million. KSU anticipates that fuel costs will rise further. The company has implemented fuel optimization technology in ~20% of its road locomotives in the United States. It plans to replicate this in Mexico moving forward. These mechanical in-sourcing and restructuring expenses should result in $8.0 million–$10.0 million in annual savings, according to Kansas City Southern.
Moving forward, railroads (UNP) are likely to focus on cost rather than revenue. CSX Corporation (CSX) reported a 210-basis-point deterioration in its operating margins in 1Q17. However, Canadian Pacific (CP), which released its 1Q17 earnings on April 19, 2017, recorded a 90-basis-point improvement in its operating margin.
All the US-originated Class I railroad companies are included in the iShares Global Industrials ETF (EXI).
Continue reading to learn about KSU's cash distribution to its shareholders in 1Q17.