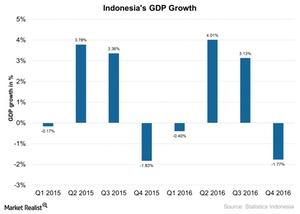 Indonesia Has High GDP Growth Expectations, but Will These Help Markets in 2017?
Indonesia's economic growth
The World Bank is forecasting higher growth for Indonesia (IDX) at about 5.1% and 5.3% for 2017 and 2018, respectively. These stronger growth expectations in 2017 are mainly due to a likely rise in private investments.
The government of Indonesia has downwardly revised its export growth target due to the slow recovery of global demand in the last quarter of 2016. But the rise in commodity prices has provided the much-needed support for economic growth in 2016 and is likely to continue in 2017. Indonesia is one of the world's biggest commodity exporters in Southeast Asia (ASEA) (VWO).
Meanwhile, economic reforms are expected to boost investment in Indonesia, though the recent defeat of the gubernatorial candidate known as Ahok is expected to slow the pace of reforms in Jakarta, which is the capital and financial hub of the country.
Article continues below advertisement
Quarterly GDP growth rate
Indonesia's gross domestic product fell ~1.8% quarter-over-quarter in 4Q16, as compared to its 3.13% growth in 3Q16. The country's GDP in 4Q16 contracted as private consumption slowed, but investments increased while government spending and exports recovered.
One interesting trend, however, in Indonesia's economy is that it has reduced its dependence on exports and has increased its reliance on domestic consumption. Now, domestic consumption in Indonesia contributes about 55% to the country's total national economic growth (as of 2016). As a result, any fall in this consumption is likely to have an impact on the country's economic performance.
That said, private consumption is expected to pick up marginally in 2017 as inflation remains low and consumer confidence continues to improve with the relatively stable Indonesian rupiah. Indonesia's reforms and growth plans also hit a small setback with its slower growing GDP in 2016. Still, in 2016, GDP rose 5.02%, as compared to 4.88% in 2015, which was slightly under the expected growth of 5.03%.
Jakarta's election impact
The recent Jakarta gubernatorial election results are now serving as a barometer for Indonesia's 2019 Presidential elections. But the current President Widodo has been seen as doing well, bringing reforms and improving the overall economic activity in Indonesia, and so any change in leadership at the center is expected to slow the pace of reforms and economic growth.
Notably, investors can access Indonesian markets through ETFs like the iShares MSCI Indonesia ETF (EIDO), which tracks a market-cap-weighted index of large-, mid-, and small-cap Indonesian companies and gained ~9% in 1Q17, and the VanEck Vectors Indonesia Index ETF (IDX), which tracks a market-cap-weighted index of large-cap and highly liquid Indonesian stocks. IDX gained about 6.9% in 1Q17.
In the next part, we'll discuss the importance of reforms in Indonesia and the impact of the recent gubernatorial elections.