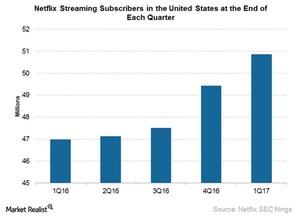 How the Changing Regulatory Environment Could Impact Disney
By Shirley Pelts

Updated
Changes in regulations
On April 25, 2017, The Wall Street Journal reported, citing FCC (Federal Communications Commission) chair Ajit Pai, that the FCC will begin reviewing its media regulations from May 18, 2017, onward. Last month, the U.S. House of Representatives (SPY) voted in favor of legislation to repeal a set of privacy protection rules.
Repealing these privacy rules should help ISPs (Internet service providers), which would be able to target advertising using consumer data, which could affect consumers' rights to privacy.
Article continues below advertisement
On April 27, 2017, MoneyControl reported that the Trump administration has proposed a corporate tax cut from the existing 35.0% to 15.0%. The move could be positive for The Walt Disney Company (DIS), who had been urging the government to lower the corporate tax rate and close legal loopholes in the corporate tax policy.
Disney said in an earlier earnings call that the corporate tax policy needs to be changed because American companies are no longer competitive with other companies around the world due to the tax rate.
Other companies' view of net neutrality
There has also been speculation that the FCC might roll back net neutrality. Comcast (CMCSA) has made it clear that while it supports net neutrality, it doesn't favor the classification of net neutrality under Title II of the Communications Act. The classification of net neutrality under Title II indicates that broadband is expected to be regulated like any other utility service.
Netflix (NFLX) also made it clear in an earlier earnings call that if there's a rollback in net neutrality rules, it wouldn't expect it to adversely affect its margins. Netflix believes that it's popular enough among subscribers for its interconnection agreements with ISPs to hold.
At the end of fiscal 1Q17, and as you can see in the above graph, Netflix had 50.9 million subscribers.