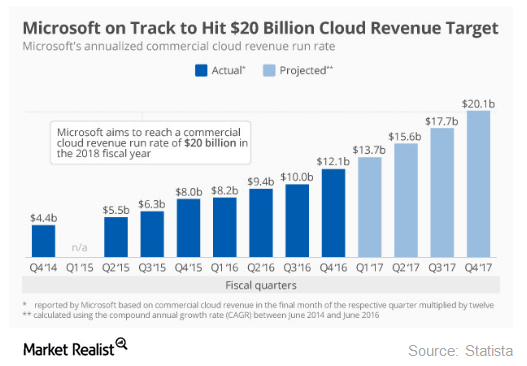 How Office 365 Could Determine Microsoft's Success in the Cloud
Microsoft's Commercial Cloud revenue run rate exceeds $14 billion
In our recent Microsoft (MSFT) series, we saw how the company's continued success in the cloud is posing a threat to Amazon's (AMZN) dominance in the cloud. Microsoft's Commercial Cloud business has an annualized revenue run rate in excess of $14 billion.
Microsoft primarily generates its cloud revenues from Office 365, Dynamics 365, and Azure, its cloud-based computing platform. The company calculates its annualized revenue run rate by multiplying its revenues in the final month of the quarter by 12. In this case, the company is using fiscal 2Q17.[1. quarter ended December 31, 2016]

Article continues below advertisement
Article continues below advertisement
Microsoft's cloud revenues could hit $20 billion by 2018
In fiscal 2Q17, Microsoft's Azure revenues rose 93%, and its computing usage more than doubled on a YoY (year-over-year) basis. In constant currency terms, the company's growth reached 95%.
Office 365 and Office Consumer revenues rose 47% and 21%, respectively, in the most recent quarter. Dynamics 365 paid seats more than doubled YoY in the last quarter, and 80% of the company's enterprise customers chose Dynamics 365. Later in this series, we'll discuss Microsoft's strategy regarding Dynamics 365.
In terms of overall public adoption, Azure grew the fastest among its peers—Amazon's AWS (Amazon Web Services), Google (GOOG) Cloud, IBM (IBM), and Oracle (ORCL).
The cloud offerings that constitute Microsoft's Commercial Cloud business have grown steadily, exhibiting ongoing adoption. Looking at the growth of Microsoft's cloud offerings in fiscal 2Q17, as well as its ability to sustain its momentum in the cloud space, it seems the company is on its way to accomplish the goal it set for its cloud offerings by 2018. Statista estimates that Microsoft could have $20.1 billion in cloud revenues by fiscal 2018.