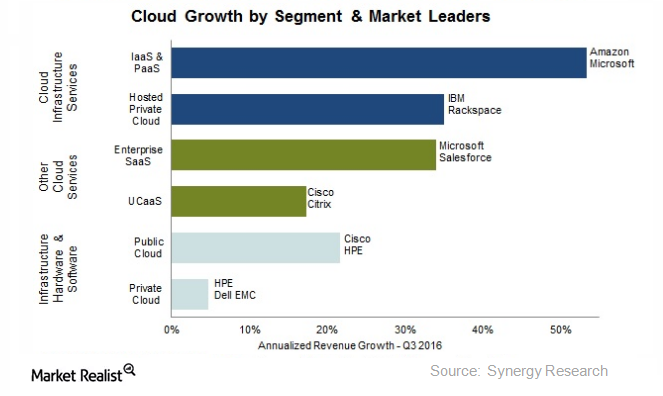 How Microsoft's Approach Made It a Leader in the SaaS Space
MSFT's dominance in collaboration space made it a SaaS leader
Earlier in this series, we discussed Microsoft's (MSFT) interest in the enterprise collaboration space as well as its holistic approach to bundling its cloud offerings. Collaboration is the largest segment in the SaaS[1. software-as-a-service] space and, after ERP (enterprise resource planning), it grew the most in the SaaS space.

Microsoft's (MSFT) dominance in the collaboration sector enabled it to achieve a leadership position in SaaS. The fourth quarter of 2016 marked the third straight quarter in which Microsoft emerged as the leader in the overall enterprise SaaS market.
Although it's no longer a leader in the SaaS space, Salesforce (CRM) still dominates the CRM (customer relationship management) space.
Article continues below advertisement
Article continues below advertisement
Increased SaaS adoption could benefit Microsoft the most
According to Brent Bracelin, a senior research analyst with Pacific Crest Securities, "Of a total $1.3 trillion IT spend, about $60 billion is in cloud now." If we take Gartner's estimates into consideration, the "cloud shift" is expected to impact more than $1 trillion in IT spending by 2020, as the chart above shows.
As more companies adopt the cloud route, the SaaS model could also witness wider adoption and benefit Microsoft due to its leadership position in this space. Among its peers, Microsoft appears to be the best positioned to make a move in the cloud space. As the undisputed leader of the cloud space, Amazon (AMZN) stock received a downgrade due to the growing prominence of Microsoft's Azure.