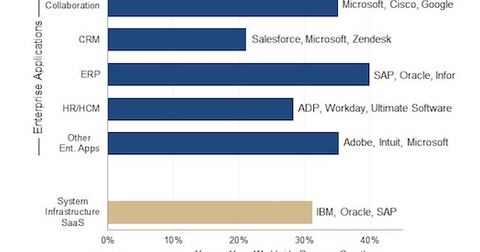 How Intentional Software Could Strengthen Microsoft
By Anne Shields

Updated
Microsoft's strategy to rule in the enterprise collaboration space
Earlier in this series, we discussed Microsoft's (MSFT) recent acquisition of Intentional Software, which would become a part of the company's Productivity and Business Processes segment. This move is expected to strengthen Microsoft's productivity tools. 
To restore companies' faith in public cloud services after Microsoft and Amazon's (AMZN) AWS[1. Amazon Web Services] were impacted by recent outages, Microsoft launched new security features for Office 365.
Microsoft launched Office 365 Microsoft Teams in the enterprise collaboration space. Microsoft Teams is a chat-based offering that integrates with other companies' apps such as Word, OneDrive, and Excel.
MSFT also launched Microsoft Dynamics 365 in late 2016, which is an Azure-hosted product that combines CRM[2. customer relationship management] and ERP[3. enterprise resource planning] offerings.
With Dynamics 365, Microsoft would bundle CRM, ERP, PowerApps, Flow, and other cloud business application platforms and make them available through a single subscription. Among its peers, Microsoft's Skype for Business is the most commonly used collaborative chat app.
Article continues below advertisement
Looking at the way Microsoft is combining its cloud offerings, its aim is to provide a holistic cloud offering. This approach may have contributed to its success in the Collaboration segment. The LinkedIn acquisition also expanded the company's reach in the social networking and workforce collaboration space.
By combining its cloud offerings, Microsoft has aimed at providing a comprehensive cloud offering. This initiative is visible by the leadership of Microsoft's Skype for Business in the enterprise collaboration space. The acquisition of Intentional Software could further strengthen Microsoft's presence in the enterprise collaboration space by expanding and enhancing capabilities of its productivity apps.
MSFT's dominance in collaboration space made it a SaaS leader
As reported by Synergy Research, within the SaaS space, the ERP and the collaboration segment saw the largest growth. ERP reported 40% year-over-year growth, and collaboration saw 30% growth. Collaboration is the largest segment in the SaaS space and after ERP, it grew the most in the SaaS space.
The fourth quarter of 2016 marked the third straight quarter in which Microsoft emerged as the leader in the overall enterprise SaaS market. Microsoft's dominance in the collaboration sector enabled it to achieve a leadership position in SaaS.