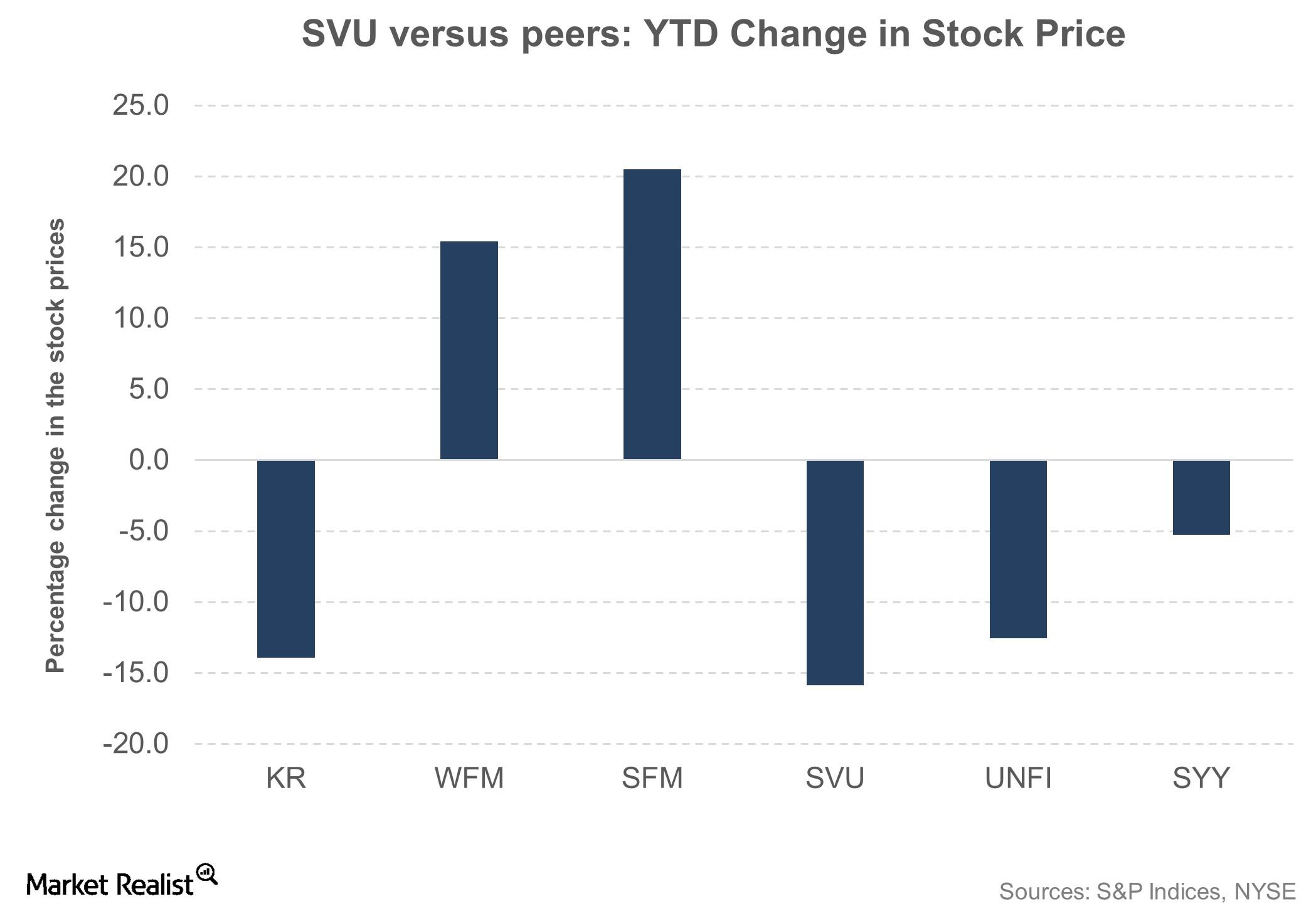 How Has Supervalu's Stock Performed?
Stock market performance of Supervalu and peers
After falling around 30% in 2016, Supervalu's (SVU) stock continues to be in the red in 2017. The company has lost around 16% of its value year-to-date (or YTD) and is trading 51% below its 52-week high price.
In comparison, supermarket peers Whole Foods Market (WFM) and Sprouts Farmers Market (SFM) are up 15.4% and 20.5% to date, respectively, while wholesalers United Natural Foods (UNFI) and Sysco (SYY) are down 12.6% and 5.3%, respectively.
Supervalu has underperformed the S&P 500 Index (SPX) and the S&P 500 Food and Staples Retail Index, which have risen 5.3% and 2.6%, respectively. However, Supervalu's stock has a strong upside. Read the next section to know more.
Article continues below advertisement
Valuations
While SVU's stock price has tumbled, it trades at the higher end of its earnings multiples. The company is currently trading at a one-year forward price-to-earnings ratio of 10x, operating close to the upper end of its valuation range of 5.9x–11.4x.
However, SVU continues to trade at a discount to most of its supermarket peers. Kroger (KR), Whole Foods Market (WFM), and Sprouts Farmers Market (SFM) are trading at 13.6x, 23.6x, and 25.6x, respectively, to the next-12-month earnings.
Wholesalers United Natural Foods (UNFI) and Sysco (SYY) are also more expensive, trading at 16x and 20x, respectively.
ETF investors seeking to add exposure to SVU can consider the iShares S&P Small-Cap 600 Value ETF (IJS), which invests 0.3% of its portfolio in the company.