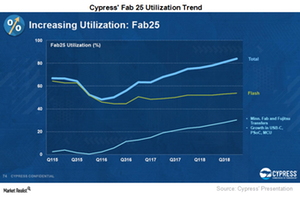 Cypress Semiconductor's Strategy to Improve Gross Margin
By Puja Tayal

Apr. 12 2017, Updated 9:06 a.m. ET
Gross margin improvement strategy
Cypress Semiconductor (CY) aims to increase its gross margin from 40.0% currently to 43.0% by fiscal 4Q17 and 47.9% by fiscal 4Q18. At the company's 2017 analyst day, Cypress's chief executive officer Hassane El-Khoury and chief financial officer Thad Trent detailed the company's gross margin strategy.
Article continues below advertisement
Improving utilization of Fab 25
Cypress is looking to improve the utilization of Fab 25, which it got as part of its Spansion merger. In 2015, Cypress reduced the Fab 25 utilization below the natural demand as it burned the excess inventory it got from the Spansion merger. In mid-2016, it increased the fab utilization to the level of natural demand as it completed its lean inventory initiative.
The utilization rate stood at 63.0% in fiscal 4Q16. Cypress plans to improve utilization to about 75.0% by the end of fiscal 2017 and above 85.0% by the end of fiscal 2018. It plans to improve utilization by reducing its manufacturing footprint and bringing more of the production to Fab 25. Currently, it manufactures 33.0% of its total output at Fab 25.
Cypress has sold its Minnesota fab to Sky­Water Technology Foundry for $30.0 million and is now moving production to Fab 25. The Minnesota fab has a capacity to produce 17,000 200-millimeter wafers per month. It expects to complete the transition to Fab 25 in three years. Until then, Sky­Water Technology could provide Cypress's foundry services.
Cypress is also moving production from Fujitsu to Fab 25. Increasing utilization at Fab 25 would lower the wafer cost by 15.0%–20.0%, further reducing the cost of production.
Article continues below advertisement
Favorable product mix 
Cypress is also optimizing its portfolio to produce higher margin products. At the Morgan Stanley Technology, Media & Telecom Conference on February 28, 2017, Trent stated that Broadcom's (AVGO) IoT (Internet of Things) business has a 50.0% gross margin. The inclusion of a high margin business would fare well for Cypress. It would increase its exposure in this high margin business through cross-selling and new design wins.
Flash gross margin improvement
Memory is a low-margin product since it's a commoditized market. Pure-play memory manufacturer Micron Technology (MU) had a gross margin of 26.0% in 4Q16.
El-Khoury explained that Cypress is moving away from low-margin memory. It only produces specialized memory used in automotive and industrial markets that command a higher price and are stickier. That has helped it improve memory gross margin from ~25.0% to low 30.0%. That could impact the company's memory revenue. But the company isn't banking on memory for growth.
The above gross margin strategy caught the attention of several analysts. In the next part, we'll take a look at analysts' questions about the strategy.