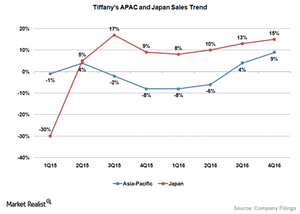 Why Tiffany's Growth Story May Take Place in Asia
By Amit Singh

Updated
Asia-Pacific witnessing recovery
Tiffany's (TIF) international operations are vital to its top-line growth. In fiscal 2016 (ended January 31, 2017), Tiffany's US sales accounted for 42.3% of its overall sales, while Japan and other countries generated 15.1% and 42.6%, respectively, of overall sales.
Tiffany's Asia-Pacific sales witnessed a dramatic improvement during the second half of fiscal 2016—especially during the fourth quarter—thanks to rising demand in China. Tiffany's brand affinity remained strong among local Chinese consumers, and this led to increased jewelry units sold. Meanwhile, the rate of decline in Hong Kong slowed down sequentially.
Besides Tiffany's strong brand image, square footage expansion has also boosted top-line growth. The company opened seven new stores in Asia-Pacific, relocated two, and closed three during fiscal 2016.
Article continues below advertisement
Given the strong demand for its jewelry in Asia-Pacific, Tiffany plans to open five or six new stores in fiscal 2017. The region is expected to boost the company's top-line results going forward, mainly driven by increased demand in China. However, softness in Australia and Taiwan will continue to hamper sales growth.
Japan continues to shine
The chart above shows that Japan continues to be a key growth engine for Tiffany, and fiscal 2017 will likely be no different. The region generates strong sales that, in turn, supplement overall results of the company.  During fiscal 2016, Japan witnessed an increase in the number of units sold with growth across all product categories. Increased brand exposure (supported by a popular television show last year) and a strong Japanese yen drove demand for Tiffany products.
Tiffany is now expected to post healthy sales growth in the region during fiscal 2017, given the company's increased brand exposure and rising demand among Japanese consumers. Moreover, the strengthening yen is likely to keep spurring demand for Tiffany's jewelry among Japanese tourists.
Now let's look at the prospects for Tiffany's Americas and Europe segments.