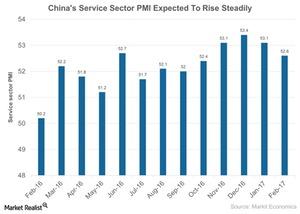 Will China's Service Sector Growth Support Market Performance?
Service sector performance in 2016
China's service sector is showing tremendous improvement since the last quarter of 2016. In the second quarter of 2016, China's service sector contributed about 51.9% of real GDP growth compared to 40.7% for the industrial sector. It struggled with growth of ~8.1% year-over-year between 2012 and 2015. Growth in the services sector looks weak if we compare it to the industrial sector's last three decades of growth, which drove China's economic output.
Article continues below advertisement
Service sector's steady growth expectations
The Caixin China Services PMI (Purchasing Managers' Index) fell to 52.6 in February 2017, from 53.1 in January 2017. Analysts' estimate for March 2017 is positive with a slight rise to 53.3. Overall consumer sentiment in China is positive with the hope that economic activity will improve in 2017. According to the February 2017 Markit China Business Outlook, overall confidence is at a two-year high.
Economic impact
China is currently undergoing a structural change, moving from an exporting or manufacturing hub to more of a demand-driven economy. The service sector in China has doubled in the last two decades, accounting for about 46.0% of 2016 GDP.
Increased consumer spending and the size of China's markets provide growth opportunities to companies in the service sector. You can consider consumer-driven ETFs such as the Global X China Financials ETF (CHIX) and the Global X China Consumer ETF (CHIQ). These ETFs help investors take advantage of the size of the markets across the retail, food, consumer, and automobile sectors. Some of the companies in these ETFs include Geely Automobile Holdings (GELYF), Galaxy Entertainment Group, JD.com (JD), and Techtronic Industries (TTI).