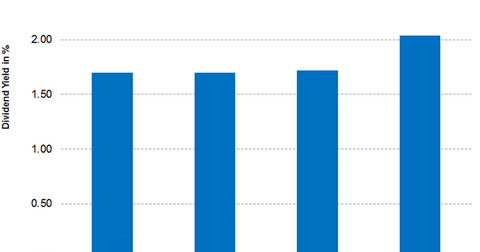 Will IFF's Current Dividend Yield Worry Investors?
By Peter Neil

Updated
IFF's dividend yield
Dividend yield measures a company's annual dividend per share relative to its price per share. It shows you how much cash an investor gets for every dollar invested in a company. A high dividend yield is a good sign, as it gives investors a stable income.
As of March 23, 2017, International Flavors & Fragrances (IFF) stock price closed at $135.07. With IFF declaring a 1Q17 quarterly dividend of $0.64 per share, IFF's current dividend yield stands at 1.87% while its peer Sensient Technologies (SXT) has a dividend yield of 1.50%.
IFF's surge in stock price after better-than-expected 4Q16 earnings pushed down the current dividend yield by 20 basis points compared to 2016. However, IFF's dividend yield is higher than the one-year Treasury yield, and it qualifies as one of the consistent dividend-paying companies.
Article continues below advertisement
Dividend payout
Dividend payout can be calculated by dividing annual dividend per share by annual earnings per share (or EPS), and it's expressed as a percentage. This figure tells investors what percentage of earnings the company is paying out as a dividend.
Since 2012, IFF's dividend payout has been consistently in the range of 33%–40%. A steady dividend payout is always preferable, as it will be easy for the company to plan for future expansion and growth.
Investors can indirectly access IFF by investing in the Vanguard Materials ETF (VAW), which has invested 1.3% of its holdings in IFF. The top holdings of the fund include Dow Chemical (DOW), DuPont (DD), and Monsanto (MON) with weights of 8.6%, 8.4%, and 6.0% as of March 24, 2017.
In the next part of this series, we'll look into the latest analyst ratings for International Flavors and Fragrances.