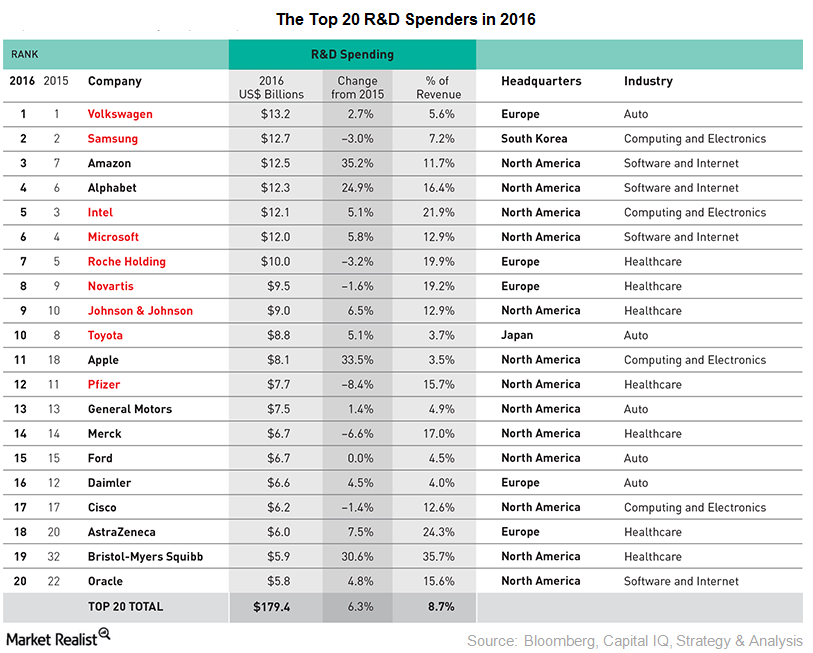 Why Oracle Is Increasing Its R&D Spending
Oracle's capex for data centers
As has been the case in the past few quarters, the cloud has been a dominant theme in Oracle's (ORCL) fiscal 3Q17 earnings. With each passing quarter, competition and consolidation have increased in this space.
Despite better-than-expected cloud revenues, Oracle isn't included in the list of top players dominating the cloud space. Let's see how Oracle aims to strengthen its presence in the cloud space.
In fiscal 3Q17, Oracle (ORCL) spent $1.5 billion to build up data centers to improve its position in IaaS and the overall cloud space, as evidenced by the company's increased capital expenditure (or capex). Oracle's capex rose 48% to ~$1.5 billion in fiscal 2017.
Article continues below advertisement
Article continues below advertisement
Oracle has targeted the Asia-Pacific region, the Middle East, and North America to open more data centers in 2018. Sharing the company's viewpoint on increased capex, Deepak Patil, vice president of development at Oracle Cloud Platform, said, "This regional expansion underscores our commitment to making the engineering and capital investments required to continue to be a global large scale cloud platform leader."
Investment in R&D gives technology players an edge among peers
President Donald Trump's proposal to reduce the income tax rate could lead to cash repatriation to the US. Technology companies such as Microsoft (MSFT), Oracle, IBM (IBM), and Salesforce (CRM) have significant cash levels parked overseas. This proposal could give them the flexibility to fund growth by investing in R&D (research and development) while adhering to their usual policies of returning cash to shareholders through stock buybacks and dividends. Spending on R&D can drive success in innovation and breakthrough technologies.
As a result, leading technology companies, which are also dominant players in the cloud space, are among the top 20 biggest spenders on innovation. The list included Amazon (AMZN), Alphabet (GOOG), Intel (INTC), Microsoft, Apple (AAPL), Cisco Systems (CSCO), and Oracle, according to a recent study by Strategy & Global Innovation 1000.
As cloud adoption increases, customers are demanding more command over their networks, data protection, and security infrastructure. They are likely to choose cloud platforms that give them the most flexibility. As a result, these software companies are aiming to direct the majority of their R&D spending toward the design, deployment, and maintenance of their enterprise cloud security models.