Why Nvidia Stock Is Falling despite Strong Growth Ahead
Nvidia's (NVDA) move from GPUs to a GPU platform-based business model contributed to its exceptional growth in fiscal 2017. Nvidia's earnings touched new highs as its revenues rose 38% year-over-year.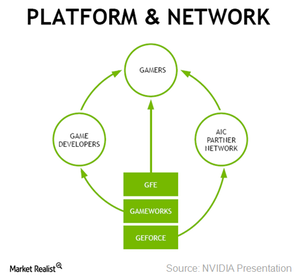 Nvidia's success story
Nvidia's (NVDA) move from GPUs (graphics processing units) to a GPU platform-based business model helped it report exceptional growth in fiscal 2017.[1. fiscal year ended January 29, 2017] Currently, the company is ahead of Advanced Micro Devices (AMD) and Intel (INTC) in the key growth areas of AI (artificial intelligence), gaming, and autonomous cars.
Nvidia's fiscal 2017 earnings surpassed analyst estimates and touched new highs. Its revenues rose 38% YoY (year-over-year), and its non-GAAP[2. generally accepted accounting principles] operating income rose 97% YoY.
Article continues below advertisement
Article continues below advertisement
While Nvidia's platforms—Gaming, Professional Visualization, Data Center, and Automotive—witnessed strong growth, the key growth drivers were the increasing popularity of e-sports and AI going mainstream. The company recently launched its most powerful gaming GPU, GeForce GTX 1080 Ti, at a reduced price.
Despite strong fiscal 4Q17 earnings and affordable GPUs, Nvidia stock has declined 14.8% since its earnings release on February 9, 2017.
Why did Nvidia's stock price fall?
Nvidia (NVDA) appears to be a victim of its own growth. The company was at its inflection point in fiscal 2017 as its Pascal GPU seemed to be unbeatable and the adoption of AI started to gather momentum. These tailwinds were factored into the company's stock price, boosting the stock 260% in 2016.
After an exceptional year, this growth momentum could slow in fiscal 2018 as the gaming market slows and as Intel and AMD gear up to compete with Nvidia.
Article continues below advertisement
Although Nvidia's fundamentals are strong, its revenues may not meet the inflated expectations of investors, sending the stock down. Many analysts have lowered their ratings for Nvidia, stating that its Data Center and Auto segments are currently not big enough to substitute for its Gaming revenues. The next inflection point is likely to come when autonomous cars hit the road.
Nvidia surrounded by multiple risks 
Nvidia (NVDA) could face several risks that could slow its revenue growth. The company earns 59% of its revenues from gaming, increasing its exposure to gaming trends, especially the enthusiasts. Its gaming growth is slowing as PC sales continue to slide.
Nvidia reported strong gaming growth in fiscal 2017 by taking away high-end market share from AMD. AMD is working to win back its market share with its cheaper Polaris and Vega GPUs, which forced Nvidia to reduce its prices.
Nvidia's key end market is gaming, which is concentrated in Taiwan (EWT) and other Asia-Pacific countries. The company earned 69.5% of its revenues from the Asia-Pacific region in fiscal 2017. The strengthening dollar is making Nvidia's products more expensive, further pressuring the company to lower its prices.
In this series, we'll look at the company's growth potential and what it means to investors.