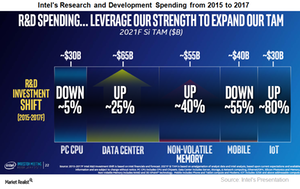 Where Is Intel Channeling Its Research and Development Efforts?
By Puja Tayal

Updated
Top semiconductor R&D spender in 2016
Intel (INTC) is in the midst of a major transformation as it enhances its existing technology and ventures into new technologies. A transformation on such a large scale requires a huge investment and makes Intel the top semiconductor R&D (research and development) spender in the world.
According to the McClean Report in January 2017, Intel spent $12.7 billion on R&D in 2016. That was 23.0% of the $56.5 billion total worldwide semiconductor R&D spending in 2016. The company's R&D expense as a percentage of its revenue rose from 14.5% in 2005 to 16.4% in 2010, and then to 22.4% in 2016.
Article continues below advertisement
Where is Intel focusing its R&D efforts?
Intel has shifted its R&D focus away from PCs (personal computers) to growth sectors such as mobile modems, AI (artificial intelligence), 5G (fifth generation), autonomous cars, non-volatile memory, IoT (Internet of Things), and networking.
Intel has almost doubled its R&D efforts in the IoT space. It's working with BMW, Mobileye (MBLY), and HERE to develop an autonomous car platform. It's developing drones, merged reality headsets, and Atom processors for IoT devices. It's also ramping up the 10nm (nanometer) node and developing a 7nm node.
Intel has increased its R&D spending by double digits in the mobile, memory, and data center space. It has partnered with Nokia, AT&T (T), Ericsson (ERIC), and other telecom operators to develop 5G technology and standardization. It's looking to integrate AI technology of Nervana Systems into its server processors. It's also developing 3D (three-dimensional) Xpoint-based Optane products.
Article continues below advertisement
Intel's R&D expense growth rate slows down
All these projects are capital-intensive. Intel's operating expense thus rose in 2016 despite achieving cost savings from restructuring. It's likely to rise in 2017 as well. However, its R&D expense growth rate has slowed down from an average of 9.0% YoY (year-over-year) since 2011 to 5.0% YoY in 2016. The slowdown is due to lower global semiconductor sales (QQQ), which fell 1.0% YoY in 2015 and then rose to the low single digits in 2016.
In addition to spending on R&D, Intel is increasing its 2017 capital spending by $2.4 billion to $12.0 billion. R&D expenditure covers the costs to develop a new product or process, while capital expenditure covers the cost to manufacture the product through capacity expansion or factory modernization.
Next, let's see where Intel is targeting its capital expenditure.