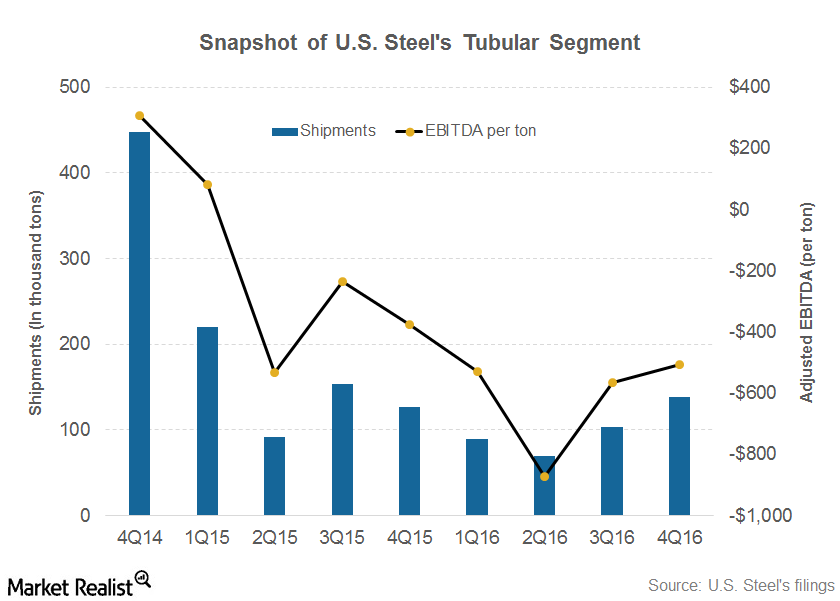 What Rising OCTG Imports Mean for U.S. Steel
OCTG imports
U.S. Steel Corporation (X) has three segments: Flat Rolled, Europe, and Tubular. The company's Tubular segment produces OCTG (oil country tubular goods) that are used in the energy sector.
The segment's volumes have nosedived, while its losses have surged due to a slowdown in the energy sector.
Article continues below advertisement
January imports
OCTG imports rose more than 86% year-over-year (or YoY) in January 2017. Its imports also rose on a monthly basis. Notably, we saw a steep rise in OCTG imports in December 2016 as well. Prior to that, OCTG imports were on a falling trend as demand nosedived following a steep fall in energy prices.
Now, as energy prices have moved to higher price levels and rig counts have seen some upward traction, the menace of higher imports seems to back. The steep rise in OCTG imports is especially worrisome for U.S. Steel because the company is the leading supplier in this space (MT).
Tenaris (TS) and Nucor (NUE) also supply to the energy industry. AK Steel (AKS) has minimal exposure to the energy industry. Instead, the company lists the automotive sector as its biggest customer segment.
What would rising imports mean?
Talking about the Tubular segment, U.S. Steel's CEO, Mario Longhi, said during the company's 4Q16 earnings call, "We believe we have hit bottom for sure." Having said that, a significant rise in OCTG imports would only make the recovery process steeper for U.S. Steel's Tubular segment.
Meanwhile, US Steel companies have been flying high, as flat rolled prices have surged since President Donald Trump's election. In the next article, we'll look at January's flat rolled steel imports.