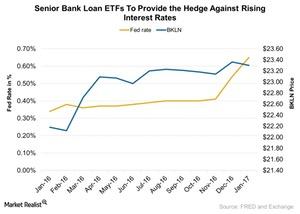 Do Senior Bank Loan ETFs Provide a Cushion?
By Mary Sadler

Mar. 14 2017, Published 12:55 p.m. ET
Senior bank loan ETF performance
The markets are anticipating multiple interest rate hikes in 2017. Senior secured floating rate bank loans and other related ETFs are expected to provide a hedge against rising rate risks. Senior loans offer floating rate coupons and have low interest rate sensitivity. Lower sensitivity to rising interest rates provides investors with the perfect hedge for rising interest rate environments. Let's look at the performance of the PowerShares Senior Loan Portfolio (BKLN) in the following chart.
Article continues below advertisement
Senior bank loan ETFs and the federal funds rate
A rising interest rate environment encourages fixed-income investors to move to short duration bonds. However, short duration bonds usually provide a lower yield than long duration bonds. Senior bank loan ETFs are expected to have the positives of both high-yield bonds and a hedge against interest rate risk. Senior bank loan ETFs are expected to provide the higher interest rate. Most of the senior bank loans are offered to companies rated below investment grade. Ideally, they fall between the investment-grade corporate bond and high-yield bonds. Also, they carry floating rates that adjust to reference rates such as LIBOR. The biggest benefit of these funds is the floating rate feature that provides protection against the rising interest rate.
Some of the senior bank loan ETFs include the SPDR Blackstone GSO Senior Loan ETF (SRLN) and the First Trust Senior Loan Fund (FTSL). In 2016, SRLN and FTSL ended the year with gains of 1% and 1.3%, respectively. In 2015, senior bank loan ETFs had negative returns due to the negative impact of oil prices.
In the next part, we'll look at the other funds that provide a cushion during the rising interest rate.