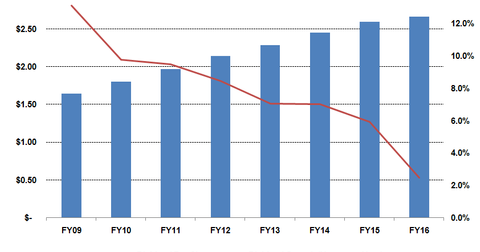 The Procter & Gamble Dividend Connection
By Amit Singh

Updated
Procter & Gamble is an investor-friendly stock
Procter & Gamble (PG) has a great track record of rewarding investors with higher dividends, share buyback plans, and share exchanges. In the first six months of fiscal 2017, the company has returned $15.5 billion to its shareholders in the form of $3.6 billion in dividends, $2.5 billion in share repurchases, and $9.4 billion in share exchanges associated with the divestiture of its beauty brands to Coty (COTY).
Moreover, the company's dividend payout ratio remains above 70%. As mentioned by Procter & Gamble's CFO (chief financial officer), Jon Moeller, during the fiscal 2Q17 conference call, the company's dividend payout ratio is significantly higher than the peer group average of 54% in the US.
Article continues below advertisement
Procter & Gamble's dividend growth
Procter & Gamble is a dividend aristocrat, which is a term used for a company that has increased its dividends for 25 years in a row. Procter & Gamble's dividend has increased for 60 consecutive years. Last year, the company increased its quarterly dividend by 1% to $0.6695 per share.
This growth in dividends is supported by the company's strong adjusted free cash flow generation (defined as operating cash flow minus capital spending and excluding tax payments related to the Beauty Brands divestiture) capability. In the first half of fiscal 2017, it generated about $4.7 billion in adjusted free cash flow.
Notably, Procter & Gamble accounts for 10.5% of the Vanguard Consumer Staples ETF (VDC).
Dividend yield
Simply put, dividend yield signifies how much cash flow investors would receive for every dollar they invest in the company. Procter & Gamble's dividend yield of 2.97% is greater than consumer staple peers like Colgate-Palmolive (CL), Clorox (CLX), and Kimberly-Clark (KMB), which have dividend yields of 2.12%, 2.34%, and 2.91%, respectively.
Future returns to shareholders
In fiscal 2017, Procter & Gamble plans to return $22 billion to shareholders through dividends of about $7 billion, share repurchases of over $5 billion and reduce outstanding shares by $9.4 billion through share exchanges with Coty. The company plans to ramp up shareholder returns by issuing $70 billion in dividends, share repurchases, and share exchanges over four years (fiscal 2016–fiscal 2019).