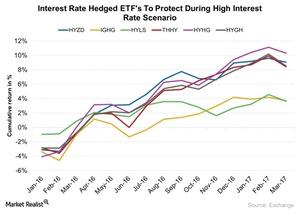 Interest Rate Hedged ETFs Protect during Interest Rate Hikes
By Mary Sadler

Mar. 14 2017, Published 12:55 p.m. ET
Interest rate hedged ETFs
Investors shift to short duration bond funds during a rising interest rate scenario. The interest rate hedged bond ETF strategy provides investors with an opportunity to hedge the interest rate movement. These funds provide investors with high yield through high-yield bonds and protect against the interest rate change. The fund invests in long positions in high-yield portfolios and short positions in US Treasuries. Let's look at the performance of some of the interest rate hedged ETFs in the following chart.
Article continues below advertisement
An interest rate hedged ETF usually takes a short position in the interest rate swaps. It makes the duration of the portfolio zero. The duration helps measure the sensitivity of the bond to changes in the interest rate. As you can see in the above chart, the rate hedged funds outperformed as the yields on benchmark ten-year Treasuries rose to 2.6% as of March 2017 from 1.8% before the election in 2016.
The interest rate hedge strategy helps in an increasing interest rate scenario by outperforming the non-hedged funds. Currently, the yields are increasing with the higher expectation of interest rate hikes in 2017. Also, President Trump's fiscal stimulus and tax reforms are boosting overall market performance.
Performance in 2016
The WisdomTree BofA Merrill Lynch High Yield Bond Zero Duration Fund (HYZD) and the ProShares High Yield—Interest Rate Hedged (HYHG) each provided the highest return among the ETFs mentioned above as of 2016 at 9%. The funds were followed by the Market Vectors Treasury-Hedged High Yield Bond (THHY) and the iShares Interest Rate Hedged High Yield Bond (HYGH). They each provided a return of ~8% as of 2016.
In the next part, we'll look at the short-term bond exposure strategy to hedge against the rising interest rate scenario.