How Norfolk Southern's Intermodal Volumes Compare to Peers
Norfolk Southern's (NSC) total intermodal traffic rose 2.7% in the week ended March 4, 2017.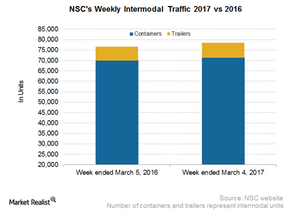 Norfolk Southern's intermodal volumes
Norfolk Southern's (NSC) total intermodal traffic rose 2.7% in the week ended March 4, 2017. Volumes reached nearly 78,500 containers and trailers as compared to ~76,500 in the week ended March 5, 2016.
Notably, trailers followed containers in terms of percentage increase. NSC's container traffic rose 2% YoY (year-over-year), up from ~70,000 units in the week ended March 5, 2016, to over 71,000 units in the reported week. NSC's percentage rise in intermodal volumes was in contrast with the percentage fall reported by US railroads.
NSC's trailer traffic grew 10.3% YoY in the ninth week of 2017. Since the beginning of 2017, NSC's overall intermodal traffic has risen 3.7% YoY.
Article continues below advertisement
Article continues below advertisement
Why is intermodal vital for NSC?
NSC's rise in trailer volumes appears to mark the end of its hardship due to the restructuring of TCS (Triple Crown Services), an underperforming subsidiary. NSC has been shifting shippers to other intermodal lanes. The restructured TCS intends to focus on specific merchandise such as auto parts (TM).
The intermodal businesses of all major US railroads face strong competition from the trucking industry (JBHT). Although railroads are four times more fuel efficient than trucks, the fall in fuel prices in 2016 made truckers more competitive.
Electronic logging devices
Meanwhile, the implementation of ELDs (electronic logging devices) in the trucking industry will most likely create service issues, thereby tightening truck capacity (KNX). With the tightening of the trucking market in 2017, intermodal should stand to benefit, according to Norfolk Southern.
With fuel prices on the rise again, intermodal volumes should rise in coming quarters. This rise will likely be due to the cost-efficient nature of railroads on medium and long hauls where trucking will be less lucrative.
Investing in ETFs
Railroads make up part of the industrial sector. If you want exposure to the transportation and logistics sector, you can invest in the First Trust Industrials/Producer Durables AlphaDEX ETF (FXR). FXR's portfolio holdings include major US airlines and railroads.
In the next part, we'll look at the rail traffic of CSX (CSX).