Can LyondellBasell's Valuation Come Out of Its Peers' Shadow?
As of March 9, 2017, LyondellBasell (LYB) was trading at a one-year forward PE (price-to-earnings) multiple of 9.3x.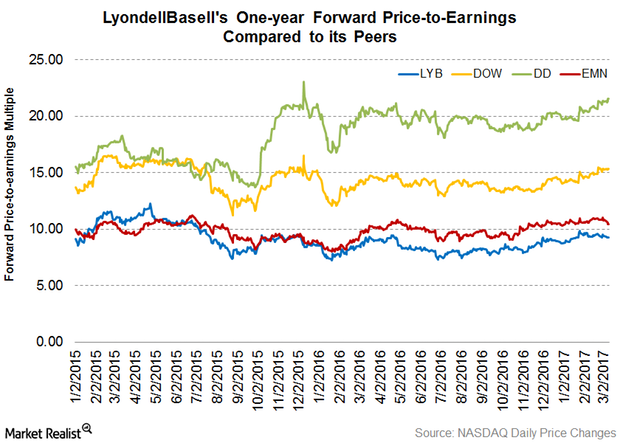 LyondellBasell's forward price-to-earnings
In the previous part of this series, we looked at analysts' recommendations for LyondellBasell (LYB). In this part, we'll analyze the company's valuation compared to its peers.
As of March 9, 2017, LYB was trading at a one-year forward PE (price-to-earnings) multiple of 9.3x. Its peers Dow Chemical (DOW), DuPont (DD), and Eastman Chemical (EMN) were trading at one-year forward PE multiples of 15.4x, 21.5x, and 10.5x, respectively.
Article continues below advertisement
Article continues below advertisement
Forward PE is a relative valuation method that considers a company's future earnings for calculation. It tells how much investors are paying for the stock per dollar of expected earnings in the next 12 months. It's one of the most popular valuation tools to compare two or more companies that operate in the same industry and to see which stock is overvalued or undervalued.
Why LyondellBasell trades at a discount
LyondellBasell has been trading at a discount compared to its peers for quite some time. It's been struggling to keep up with industry growth in the current challenging economic environment. Since 2014, the company's revenue has fallen from $45.6 billion in 2014 to $29.2 billion in 2016. However, the increasing demand for polyolefins is expected to help LYB post better revenues in 2017.
In 2016, LyondellBasell had to deal with unusually high plant maintenance and an unexpected plant breakdown. Both of these issues put a dent in the company's revenue and margins. LYB says there will be less scheduled maintenance in 2017 and that the road ahead looks positive.
If you're looking for exposure to LyondellBasell, you can invest in the Vanguard Materials ETF (VAW), which has invested 3.8% of its portfolio in LyondellBasell as of March 9, 2017.