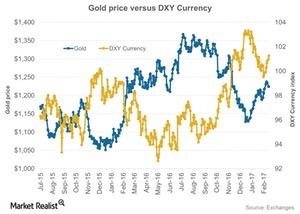 Why Gold and the US Dollar Are Moving in Opposite Directions
US dollar rose
Gold prices tumbled on Tuesday, February 14, as the US dollar rose after the US Federal Reserve chair, Janet Yellen, seemed optimistic about raising interest rates. The rise in the dollar initially hampered precious metals, as a stronger dollar can cause dollar-based assets to fall. The dollar index reached its highest in more than three weeks following Yellen's remarks. The US dollar index, which prices the dollar against a basket of six major world currencies, rose about 0.29% on Tuesday and has bagged almost a 1% increase during the past five trading days.
Article continues below advertisement
An increase in the dollar enhances the cost of dollar-based assets for buyers from other countries, and their prices may fall. Similarly, a fall in the dollar makes these assets more expensive, and their prices can rise. The weaker the US dollar gets, the easier it is for investors from other countries to invest in dollar-based assets such as precious metals. Precious metals and the US dollar are inversely correlated.
Correlation between the dollar and gold
The correlation between gold and the US Dollar Index is now -0.43, which means that about 43% of the time, gold and the dollar are moving in opposite directions. Silver's correlation with the US Dollar Index is also about -0.43.
Changes due to movements in the dollar can be seen in mining funds such as the Global X Silver Miners Fund (SIL) and the VanEck Vectors Gold Miners (GDX). These two funds saw massive year-to-date rises alongside precious metals.
As precious metals have retreated over the past few days, precious metal mining stocks have also suffered. However, Gold Fields (GFI), Randgold Resources (GOLD), IAMGOLD (IAG), and Yamana Gold (AUY) have all seen gains in the past month due to the rise in precious metals.