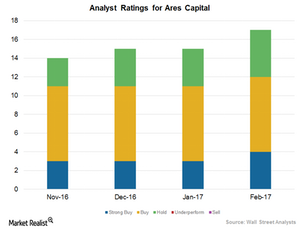 What Analyst Ratings Say about Ares Capital's Performance
Analysts' ratings for Ares Capital
Ares Capital's (ARCC) analyst ratings have improved over the past few months due to rising earnings and originations. So far in February 2017, twelve of the 17 analysts covering the company have rated it as a "buy" or a "strong buy." Five analysts rated it as a "hold."
Since January 2017, Ares Capital's ratings have improved, with its "strong buy" ratings rising from three to four. Its "hold" ratings have fallen from five to four. Analysts have given Ares Capital a one-year price target of $17.15, implying negative growth of 0.25%.
Article continues below advertisement
Ares Capital's competitors
Among Ares Capital's major closed-end peers, Prospect Capital (PSEC) saw two of eight analysts rate it a "buy" or "strong buy" in January 2017. Three analysts, or ~37.5%, rated it a "hold." One analyst rated the company an "underperform, " and two analysts rated it a "sell." For BlackRock Capital Investment (BKCC), all five analysts covering the stock gave it a "hold." For Apollo Investment (AINV), four of the 13 analysts covering the stock rated the company a "buy" or "strong buy," nine analysts gave "hold" ratings, and two analysts gave "underperform" or "sell" ratings. Together, Ares Capital's competitors make up 6.1% of the PowerShares Global Listed Private Equity ETF (PSP).