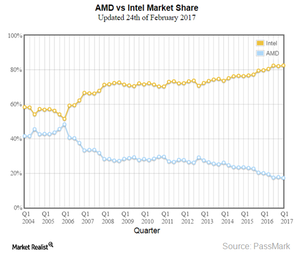 Understanding AMD's PC Market Growth Strategy
AMD's product strategy for Ryzen
Advanced Micro Devices (AMD) is set to launch its Ryzen desktop processors on March 2, 2017. It will later launch Ryzen processors for notebooks in 2H17 and Zen-based Naples processors for servers in 2Q17.
Initially, AMD is aiming Ryzen at gamers, where the company is already popular because of its chips used in Sony's (SNE) PS4 Pro and Microsoft's (MSFT) Xbox One S. The company is also looking to target professionals involved in video and photo editing and later supply Ryzen for the virtual and augmented reality headsets.
According to a few analysts, Apple (AAPL) might use Ryzen CPUs over Intel's (INTC) due to delays in upgrades by the later.
Article continues below advertisement
Article continues below advertisement
Why is AMD investing in the declining PC market?
AMD's Ryzen may not kick start PC demand as innovation has stagnated in this market and consumers are no longer encouraged to upgrade their PCs. Intel's Kaby Lake processors claim to improve performance by only 12%–19%.
In such a market, AMD aims to bring performance similar to that of Intel, but at a much lower price, making high-performance PCs more accessible to consumers. AMD is targeting gamers and video editors who demand higher performance and do not mind paying more for even a modest improvement. So AMD is not targeting the entire PC market—only the portion of the market that has been driving up PC sales.
AMD is not looking to outperform Intel's processors, in fact, but to give a tough competition and gain some share in the high-end PC market.
Could AMD thrive in the PC market?
According to IDC (International Data Corporation), AMD's share in the desktop and notebook x86 chips market peaked 23% in 2006 when its revenue from x86 reached $5.1 billion. However, delays in launching its new products and strong competition from Intel pushed AMD's market share down to 8.5% in 2015 when its x86 revenue fell to $1 billion. In server chips, AMD's market share fell from 24% in 2006 to 0.4% in 2015.
Bernstein Research analyst Stacy Rasgon believes that AMD's "biggest incremental opportunity" could come from the data center market.
Every year, around $50 billion worth of x86 chips for desktops, notebooks, and servers are sold. AMD currently stands at $4 billion sales in fiscal 2016. By launching competitive products, if it manages to win 20% market share, its revenue would grow fivefold.
Next, we'll look at Intel's reaction to AMD's Ryzen.