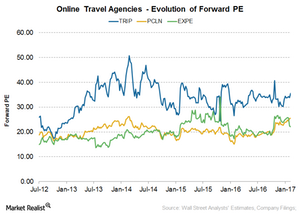 TripAdvisor's Valuation: What Does It Mean for Investors?
Forward PE ratio
Currently, TRIP's forward PE (price-to-earnings) ratio stands at 35.6x, which is mid-level to its all-time high of ~50.7x seen in July 2014 and its all-time low of ~17.4 seen in October 2012. Below are a few noteworthy comparisons:
EXPE's PE ratio is lower than that of its closest peer, Priceline Group (PCLN), whose stock was valued at a forward PE multiple of 25.5x during the corresponding period.
Expedia had a forward PE multiple of 22.2x during the same period.
Chinese online travel player Ctrip (CTRP) is not directly comparable.
While the PE ratio is used widely because of its simplicity, the measurement has some disadvantages. For example, earnings can be easily manipulated, making the PE ratio meaningless. We'll compare these companies on a forward EV-to-EBITDA[1. enterprise value-to-earnings before interest, taxes, depreciation, and amortization] multiple.
Article continues below advertisement
Forward EV-to-EBITDA ratio
Currently, TripAdvisor (TRIP) has a forward EV-to-EBITDA ratio of 17.9x—lower than its average of 18.5x. This multiple is higher than both Expedia's forward EV-to-EBITDA multiple of 10.7x and Priceline's multiple of 17.9x during the same period.
Investors should remember that higher multiples do not always suggest high growth. They can be due to depressed earnings, which is the current case for TripAdvisor.
What should investors look at?
TripAdvisor's success depends on the success of its Instant Booking platform, as TRIP continues to invest heavily in the platform. Some key metrics to track are revenue per shopper growth, EBITDA margins, and Instant Booking monetization rates.
On a macro level, factors such as terrorist threats, geopolitical risk, and economic obstacles could subdue the global travel scenario, which could mean a struggle for TripAdvisor.
TRIP makes up 1.4% of the PowerShares NASDAQ Internet Portfolio ETF (PNQI).