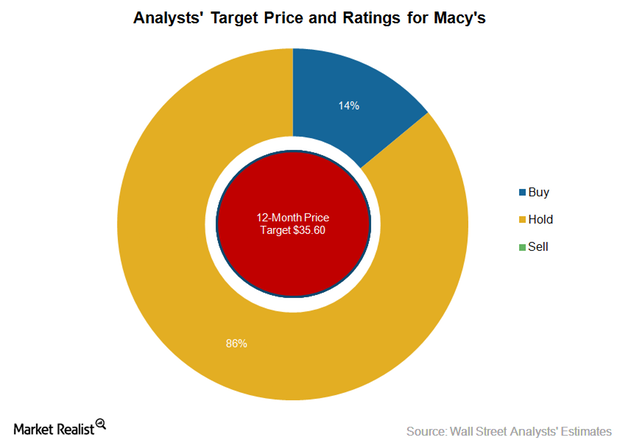 Macy's Stock: Why Do Most Analysts Rate It a 'Hold'?
Analyst recommendations
On February 2, 2017, 19 out of 22 analysts covering Macy's (M) stock had "hold" recommendations, and three analysts had "buy" recommendations. Macy's is the largest department store chain in the US based on sales. It operates about 880 stores in 45 states, the District of Columbia, Guam, and Puerto Rico. The company also has a Bloomingdale's store in Dubai, which is operated by Al Tayer Group LLC under a license agreement.
Article continues below advertisement
Consensus "hold" ratings
As we discussed in Part 2 of this series, Macy's has faced persistent weakness in its sales in recent quarters. Competition from Amazon (AMZN) and off-price retailers like TJX Companies (TJX) has severely impacted the performance of Macy's and its department store peers.
The company is trying to address this weakness by expanding its merchandise through attractive brands, enhancing its online channels, and expanding into the off-price space through Macy's Backstage stores.
Macy's is also trying to improve its bottom line through several productivity measures. Aside from closing unprofitable stores, the company is trying to improve its productivity by restructuring its organization through the removal of unnecessary layers of management and by reducing costs.
On February 2, the analyst recommendations for Macy's peers were as follows:
12-month price target
On February 2, 2017, the 12-month price target for Macy's stock was $35.60. This price estimate reflects a potential upside of ~16.0% from the company's closing stock price of $30.72 on February 2. As we mentioned in Part 1 of this series, Macy's stock price has fallen 14.2% since the start of 2017.
For more news and analysis, please visit our Department Stores section.